Estimated Read Time: 6 Minutes
For many homeowners, the appearance of their cabinets takes centre stage in the kitchen or bathroom design process.
It's no wonder that your cabinets are the key aesthetic focal point of the kitchen, given that most of the walls are furnished with them.
For decades, stained cabinetry has been popularly used to highlight a wood's natural appearance. However, one element that is often neglected is the direction of the cabinet's wood grain.
At Deslaurier, we specialize in all things custom cabinetry and kitchen design. With over 40 years of experience to our name, we've completed thousands of kitchen projects using the highly sought-after appeal of natural wood cabinets.
With the help of Deslaurier design consultant, Amelia Mathieson, this article will examine cabinet wood grain and how its direction can influence your design's overall appearance.
Let's get started!

What is Wood Grain?
Wood grain is the orientation of wood-cell fibers. Picture the straight and wavy lines you'd see on hardwood flooring: that is the wood's grain.
Essentially, the grain is the makeup of a wood's texture, markings and pattern, which is why it is often referred to as a "grain pattern."
When it comes to the world of wood grain, there are a number of ways to alter its appearance, primarily through the way it is cut and processed.
For example, rift-sawing wood helps achieve a straight grain pattern and cuts down on shiny spots in the grain known as flakes. It is most commonly used with white oak because its wood grain is generally the straightest and free from cathedrals or variations.
Rift-sawn wood is purely for aesthetic consistency. The primary purpose is to produce a tight, vertical wood grain presentation with very few inconsistencies.
For this article, however, we'll focus on the direction of the wood grain rather than the various manufacturing methods.
With that, let's take a look at the difference between vertical and horizontal wood grain cabinets.
Vertical vs. Horizontal Grain: Design Style
While the two directions of wood grain are obviously quite different, they both offer the same intention: achieving a linear appearance.
Think of vertical as accentuating height and horizontal as accentuating length.
"A bold grain going vertically will draw your eye up and a horizontal grain will draw your eye down to highlight width" - Amelia Mathieson
Vertical Cabinet Grain
A vertical cabinet grain pattern is a more classic or traditional style.
Vertical grain is far more common and is what you'll find in most kitchens with stained cabinetry.
Cabinet doors are typically taller than they are wide, so a vertical grain makes a lot of sense in that regard—especially with upper-wall and full-height pantry cabinets that approach the ceiling.
Horizontal Cabinet Grain
Horizontal grain is considered more of a modern aesthetic. It can be expertly paired with flat, slab cabinet door styles to ensure the grain stays prominently on display.
For that reason, if a horizontal grain is done it's usually paired with drawers. Drawers are much wider than doors and let the grain cover the entire width of the cabinet.
If you have a smaller kitchen and are looking for ways to expand the visual space of the room, including a horizontal grain on your base cabinets can be a good start.
Wood Species with Strong Grain Patterns
With so many different wood species available for kitchen cabinets, it can be hard to settle on a favourite. If you know you want your cabinets to emphasize a strong and prominent grain, you'll likely want to avoid subtle woods and focus on naturally bold and distinct appearances.
When dealing with hardwood species, it's important to remember that they are natural products—just like the trees themselves, no two cabinet doors are exactly alike. There will always be aesthetic differences from one sheet to the next, and that's part of their beauty!
With that, let's take a look at several cabinet woods with strong grain patterns.
Cherry
Known for its rich, dark, reddish-brown colour, cherry is one of the most luxurious woods you can find for your kitchen cabinets. Prized for its aesthetic, cherry offers a more traditional look. It has a smooth, closed-grain pattern.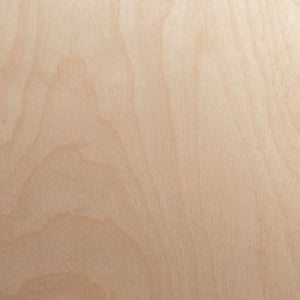 A key characteristic to note about cherry wood is its aging process. Starting almost as light or golden pink, cherry gradually gains deep, alluring reddish-brown hues as it is exposed to oxidation and natural lighting over time.
Walnut
Walnut is a stunning natural wood noted for its immense colour and strong, typically straight grain variation. Walnut can range anywhere from a light brown to a deep, dark chocolate hue.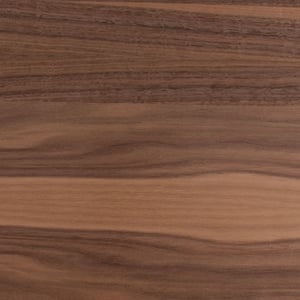 Though its grain is very open and more coarse than cherry, walnut still has a beautiful, uniform surface.
"Walnut is popularly used horizontally because the grain is so dominant" – Mathieson
The allure of horizontal cabinets is to see that distinguished grain flow, which is why you typically would not see a wood species with a subtle grain being used.
Oak
Firstly, it's important to note that there are two distinct species of oak trees: red and white.
Red oak has light to medium brown colouring with a cast of reddish tones, while white oak is overall much lighter, yet still has gentle pink and purple hues to it.
Both oak species are complemented by a prominent, straight grain pattern, as seen below: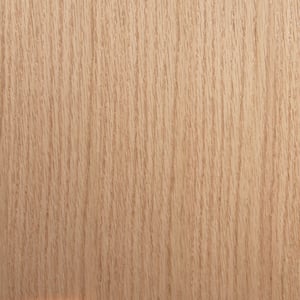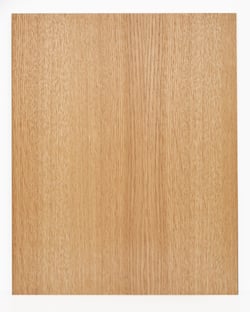 The straight, textured grain of oak is the perfect choice for cabinets with a vertical appearance.
Textured Melamine
If you're looking for a man-made cabinet solution, textured melamine allows for the use of deep, congruent visuals perfect for a wood grain aesthetic.
Since textured melamine cabinets are manufactured using printed images, they can accurately replicate a vast amount of wood species' grains.
In fact, melamine will produce a more uniform, constant wood grain than a natural wood species. This is because hardwoods are natural materials and in turn, no two cabinets will have the exact same grain patterns. Melamine will.
If your main goal is to have consistency in your wood cabinets, textured melamine is hard to beat.
Interested in the benefits of textured melamine? Read our article on the differences and similarities between textured melamine and natural wood cabinets!
Horizontal Grain for Bathroom Vanity Cabinets
While horizontal wood grain might not be as popular as vertical when it comes to kitchen cabinets, it certainly has found its place in the world of bathroom vanity cabinets.
In fact, incorporating wood grain vanity cabinets is one of the most popular bathroom design trends for 2023!
Particularly when it comes to contemporary floating vanities, a clean and straight horizontal grain can work as an eye-catching accent feature.
Floating vanities (also known as "suspended") take up less visual – and literal – space in a bathroom. They are the perfect feature if you're looking to create an updated, modern-style bathroom design.
Take a look at these suspended vanity cabinets with a luscious horizontal walnut wood grain:
As bathroom vanities are typically much wider than they are tall, incorporating lengthy drawer fronts will allow the wood grain to be highlighted on customarily understated vanity cabinets.
Wood Grain on Cabinet Boxes and End Panels
While we have focused primarily on door and drawer fronts, it's important to touch on the cabinet boxes themselves. Exposed cabinet boxes will either have a finished side or an attached end panel.
At Deslaurier, our finished cabinet ends and paneling are always manufactured with a vertical wood grain.
"Even if the doors and drawers are horizontal, the cabinet box will have a vertical grain. Sometimes that can throw people off" - Mathieson
Particularly on base cabinets that more commonly have a horizontal grain, the cabinet box and island panelling will be vertical. While mixing wood grains is nothing unusual in a kitchen design, it is still important to note.
While this can sometimes vary by which cabinet manufacturer you work with, you can typically expect a vertical wood grain appearance on cabinet boxes and panel products throughout the industry.
The Difference Between Horizontal Grain and Grain Matching
If you've been researching horizontal wood grain – or grain in general – there might be a few terms such as "grain matching" or "book matching" that you've come across.
While both of these are commonly done using a horizontal grain, it's important to note that horizontal grain is quite different from grain matching or book matching.
Grain matching is a technique where the wood grain pattern from one cabinet is matched with the pattern of another cabinet, creating a seamless, continuous flow. This technique is most often used with drawer front cabinets, as it allows for a consistent appearance that covers the entire cabinet front.
It is done all from the same sheet of wood since no two sheets will ever be exactly the same.
In contrast to grain matching, book matching is a technique where the grain pattern of one cabinet or cabinet door is mirrored in the adjacent cabinet or door, creating a reflective appearance at the center point. This technique is more commonly used with countertops and backsplashes, but can also be used with cabinetry for a unique and eye-catching design.
Both techniques can be quite costly and are quite laborious to achieve. These methods also tend to result in a significant amount of material waste.
Design with Deslaurier Custom Cabinets
As you can see, playing with the direction of the wood grain can have a strong influence when it comes to your cabinet selection. We hope this side-by-side comparison helps you determine which choice is best suited to you and your wood cabinets.
If you have been considering custom cabinets for your next project, Deslaurier has everything you need. With over 40 years of experience to our name, we provide our clients with a fully customized design process with our talented team of designers.
Book a free consultation today and look through our 7 cabinet wood species with a Deslaurier kitchen expert at our Jupiter, Florida showroom!

Live outside the area? Find a Dealer to connect with near you! Interested in becoming an authorized Deslaurier dealer? Visit our Become a Dealer page to learn more!