4/05/2022 • Blog
Kitchen Cabinet Refacing vs. Refinishing: What's Right For You?
Estimated Read Time: 7 Minutes
If you've been researching ways to upgrade your kitchen, you've probably come across the terms cabinet refacing and cabinet refinishing?
But what's the difference? And which method is best for your kitchen cabinets?
At Deslaurier Custom Cabinets, we're experts when it comes to kitchen cabinetry. While we pride ourselves on providing our clients with high-quality, functional cabinetry, we know they won't stay perfect forever.
With that, we understand that kitchen cabinets can be subjected to a lot of wear and tear over the years and may require being touched up or completely refaced.
This article will detail the difference between cabinet refacing and cabinet refinishing, so you can determine which method is right for your kitchen cabinets.
Let's get to it!
What is Cabinet Refacing?
Cabinet refacing is a form of upgrading your existing kitchen cabinets without altering the design or layout of your kitchen.
Cabinet refacing is essentially a renovation for your cabinets. The doors, drawer fronts, and hardware are replaced with new materials and a matching veneer is added to the cabinet boxes.
Rather than replace the entire cabinetry unit with expensive new cabinet boxes, refacing them provides an effective upgrade of the cabinet's aesthetic without breaking the bank.
Cabinet refacing gives you an opportunity to change the cabinet door style, colour, material, and hardware, without having to redesign your kitchen's layout.
This saves you a vast amount of time and money. Further, it necessitates the expense and maintenance of moving electrical or plumbing that is required with a kitchen renovation.
What Is Cabinet Refinishing?
Cabinet refacing is commonly mistaken for cabinet refinishing. However, the two are quite different and worth differentiating from one another.
Cabinet refinishing is a form of cabinet restoration that involves the cabinetry being disassembled, cleaned, sanded, and then applied with a new finish. Cabinet refinishing can focus solely on the cabinet doors, or include the cabinet boxes as well, depending on your needs.
Unlike cabinet refacing which replaces the doors and drawer fronts with new materials, refinishing transforms the current doors and drawers via repainting or restaining them.
Of course, refinishing comes with more limitations than refacing. Whereas refacing can present an opportunity to change everything from the door style to the wood species, refinishing cabinets strictly limits you to your existing cabinet structure.
So, if you're looking to change your current traditional-looking cabinets into a more modern door style, you would require the services of a cabinet refacer.
Likewise, if your existing cabinets are painted and you want stained natural wood, like a maple or walnut; you'd have to get entirely new cabinet fronts.
However, if you like the style of your cabinets but want a fresh stain, or to update the colour of them via a painted finish, refinishing them is the more practical option.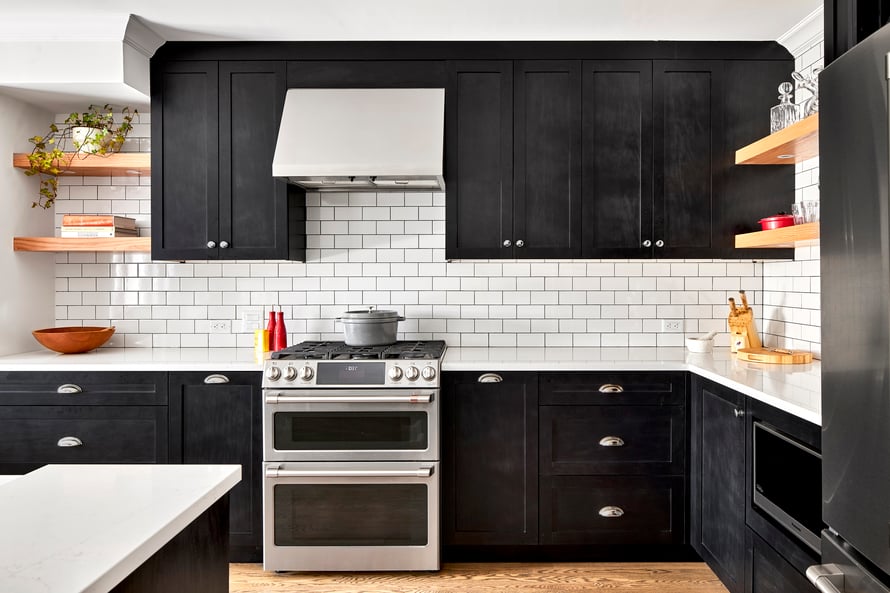 Signs You Should Reface Your Cabinets
Excessive Damage to your Doors
Kitchen cabinets can be subjected to an immense amount of damage. In fact, the kitchen is the most used room in the house, and the cabinet doors receive daily abuse.
If your cabinet doors have succumbed to excessive wear and tear, replacing them is your best option. After all, a fresh paint job won't hide the crack in the middle of your door.
Whether the corners are worn, or there are dents and gouges, refacing cabinet doors is a worthwhile endeavor to give your kitchen cabinets a much-needed makeover.
As long as the cabinet boxes are in good shape, refacing is the way to go.
You Don't Like the Style of Your Cabinets
Many people reface their cabinets when they're looking to update their home.
If your current cabinets are outdated, or you've gotten sick of the door styles you chose 15 years ago, refacing them will provide instant refinement.
Refacing your cabinets with a new door style, colour, and hardware, can make a world of difference in your kitchen. It can take your traditional-looking cabinets and revitalize them into a vision of modernity.
The Doors are Warping
Warped doors is a common cabinet issue that can happen regardless of your cabinet's materials.
Solid wood doors can warp due to excessive "breathing." Breathing is the term used when wood is naturally altered due to fluctuations in temperature or humidity. These changes cause the doors to expand and contract which can lead to cracks in the joints, or the doors themselves warping.
Man-made doors, like MDF or melamine, won't be subjected to the issues of breathing. They will, however, be susceptible to warping due to potential water damage.
Regardless of the cabinet material, warping can cause basic problems like the cabinet doors rubbing against one another, or more noticeable complications like the doors not being able to close properly.
Whatever the circumstance, if you notice that your cabinet doors are warping, it might be time to replace them.
Not sure if refacing or refinishing is right for you? Think your kitchen needs a complete cabinet overhaul with brand new custom cabinets? Kickstart your kitchen design process by booking a free consultation with a Deslaurier expert today!
Signs You Should Refinish Your Kitchen Cabinets
Chipped Paint
A downside of painted cabinets is their tendency to chip and crack from repeated use. Since kitchen cabinets are handled daily, it's no surprise these issues occur.
The good thing is, if there is no excessive damage beyond the paint chipping, the cabinets will be easy to refinish.
Cabinets Look Faded
Cabinets fade over time. Whether they're painted or wood, fading is bound to happen.
Especially if cabinets are subjected to direct sunlight from windows and doors, fading will be a common occurrence.
Not to worry. A fresh repainting will have them looking brand new in no time.
You Like your Current Doors
An easy resolution to the refacing or refinishing decision is that you simply like your current cabinet aesthetic.
If you like the style of your doors, and they don't have significant damage, refinishing them is the best option.
How Much Do Cabinet Refacing and Refinishing Cost?
It should come as no surprise that the difference in cost between cabinet refacing and refinishing is quite steep.
According to Home Depot, the average cost of kitchen cabinet refacing is $6,500. That includes new cabinet doors and drawers, new cabinet box veneer, new hardware and hinges, and of course the labour involved.
The cost of cabinet refacing can range anywhere from $4,000 to as high as $15,000!


Cabinet refinishing expenses are exceedingly lower than that of cabinet refacing. The cost of cabinet refinishing will fluctuate depending on the number of cabinets you have, the type of finish that is being administered to them, and whether you select new hardware to match.
According to Home Advisor, the average cost of kitchen cabinet refinishing is $3,000. Overall, you can expect the cost of refinishing cabinets to range from $1,800 to over $4,000.
If your cabinets are in decent shape and you're trying to decide which cabinet restoration method you should go with, opting for refinishing could save you thousands of dollars.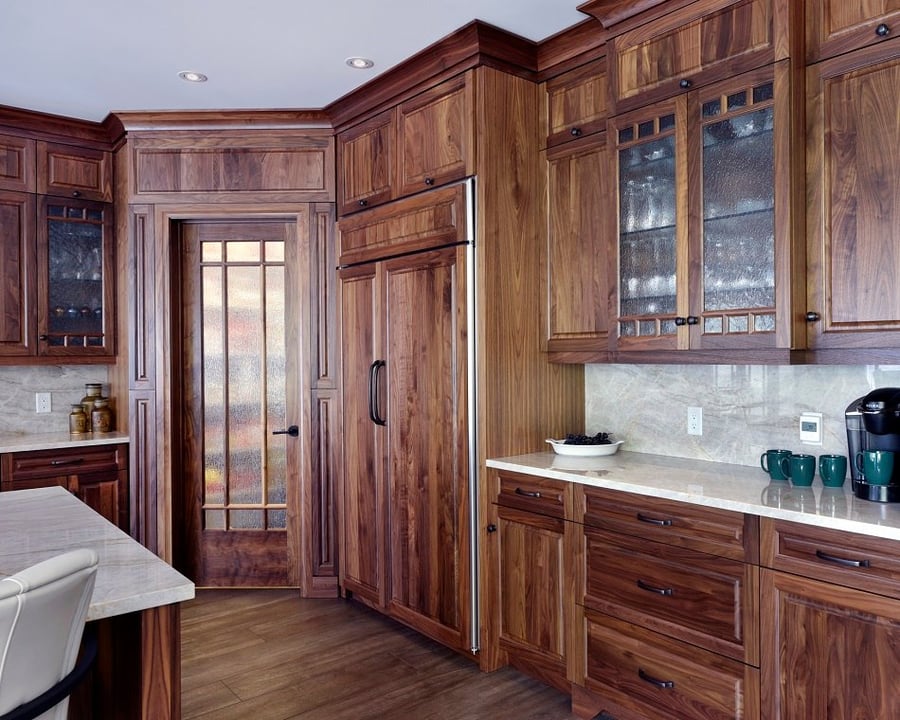 How to Refinish Kitchen Cabinets Yourself
Kitchen cabinet refacing can be incredibly expensive.
Depending on the number of cabinets you have, the material and finish of your new cabinet doors, cabinet refacing can cost you anywhere from a few thousand dollars to upwards of fifteen-thousand!
While it might be best to enlist the services of a professional for things such as electrical work, HVAC, or plumbing, there are plenty of home improvement tasks that an avid DIYer can undertake themselves.
Refinishing cabinets is one of those tasks!
If your current cabinets are in good shape, you may opt to refinish them yourself. At-home kitchen cabinet refinishing, while a time-consuming task, can save you thousands of dollars on your overall kitchen expenses.
All it requires is a little time and effort, some extra space, and you can have your kitchen cabinets looking brand new after a weekend of hard work.
For everything you need to know, check out our step-by-step guide to learn how to refinish your kitchen cabinets yourself!
Knowing When You Should Buy New Cabinets
The Cabinet Boxes are Worn
In some cases, refacing or refinishing your cabinets isn't enough. Your cabinets might be too old or damaged that a visual facelift won't suffice. It would be like putting lipstick on a pig, as they say.
While worn or tired cabinet doors can be upgraded with refacing, old and damaged cabinet boxes don't have that same luxury.
If your cabinet boxes show signs of visual or structural impairment, you'll want to opt for entirely new cabinets.
You Want to Change your Kitchen's Layout
If you want to change the layout of your kitchen, refacing and refinishing will not be able to do that. Your only option is to completely overhaul your kitchen with new cabinets to match the new layout of the space.
Whether you're knocking down a wall or adding an island, rearranging your kitchen layout will require electrical, plumbing, and HVAC work to be added or relocated.
You Want to Increase Storage
If your current kitchen's storage capabilities aren't meeting your needs, it might be in your best interest to redo your cabinets.
While you may consider simply buying extra cabinets to put in your current kitchen, there are many possible issues that will occur going down that route.
For starters, it will be extremely difficult to perfectly colour match your current cabinets. Even if they do match, these additional cabinets will be noticeably newer and "fresher" than the existing cabinetry set.
For that reason, you're better off going with new cabinets. That way, you can add additional storage, all of your cabinetry is sure to match, and you can implement new cabinet accessories that your old cabinets might not be able to hold.
Design with Deslaurier Custom Cabinets
After reading this article, you should know whether cabinet refacing or refinishing is right for you and your kitchen.
If they aren't, and you're in need of new cabinetry, you've come to the right place!
Deslaurier Custom Cabinets has everything you need if you have your eye on custom cabinetry. With over 40 years of experience to our name, we provide our clients with a fully customized design process with our talented team of designers.
Book a free consultation with a Deslaurier kitchen expert at our Jupiter, Florida showroom!
Interested in becoming an authorized Deslaurier dealer? Visit our Become a Dealer page to learn more! Live outside the area? Find a Dealer to connect with a Deslaurier dealer near you!