3/03/2023 • Blog, Design Tips
The Best Materials for Traditional Kitchen Designs
Estimated Read Time: 6 Minutes
Do you have your heart set on traditional kitchen design?
There's a reason traditional kitchen designs have such long-standing allure: the materials.
Whether you're looking at cabinets or countertops, traditional designs contain some of the best materials you can include in your kitchen.
At Deslaurier, we have over 40 years of experience providing our customers with custom cabinets and kitchen design services. In that time, we've designed thousands of kitchens from traditional to modern and anywhere in-between!
Deslaurier design consultant, Adele Jacobs, offers her expertise as we dive into the best materials you can include in a traditional kitchen design!

What is Traditional Kitchen Design?
Traditional kitchens are elegant and sophisticated. They feature natural elements, neutral colour palettes, classy light fixtures, and decorative millwork. A traditional kitchen gives off a warm and welcoming ambiance, perfect for family-centred lifestyles.
Traditional kitchens are on the opposite side of the design spectrum as modern kitchens. Where modern kitchens are streamlined and minimalistic, traditional kitchens are anything but. Rather, traditional designs are chock-full of embellishments, detail, and decorative finishes that ask to be admired.
"Traditional to me is all about the finer details – the decorative details. It needs a lot of consideration in the planning phase." - design expert, Adele Jacobs.
What's considered "modern" today won't be the same a few years from now. Trends come and go, but the appeal of a traditional kitchen is timeless.
The great thing about traditional design is that it's a broad, general term. A traditional room can incorporate styles from various places and time periods. As long as the item is ornate, unique, or vintage, it's likely it will complement a traditional room.
With that, let's explore the specific materials you can include in a traditional kitchen!
Traditional Cabinets
Since intricate detailing and decorative trim moulding are essential elements of traditional kitchen design, you'll need a flexible cabinet material to achieve that.
Traditional kitchen cabinet door styles will often feature raised centre panels or cathedral-styled arches at the top.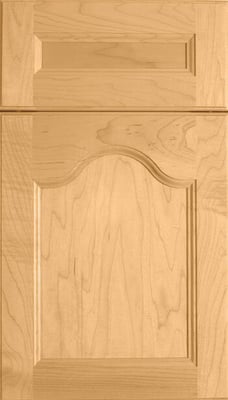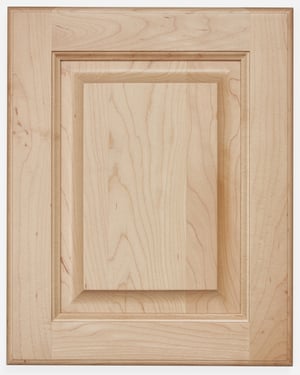 With that in mind, the two best cabinet materials would be painted MDF or natural wood.
"Wood and MDF are extremely moldable and customizable materials" - Jacobs.
You can even use a combination of both paint and wood grain cabinets to create a two-tone kitchen cabinet design.
Painted MDF
Medium-density fiberboard (MDF) is the gold standard for painted cabinets. This material is made by breaking down softwood and hardwood residuals into wood fibres, which are then compared with wax and resin to form panels. The panels are subjected to high pressure and temperatures, resulting in a durable and condensed board.
Painted cabinets are a staple of traditional kitchen design, and no material offers a more pristine surface for paint than MDF.
Being a man-made material, MDF lends itself perfectly to painted cabinets for a number of reasons.
Firstly, MDF is free of any knots, blemishes, or tactile wood grain that is commonplace for natural woods. Its engineered surface offers a pristine canvas for the paint to adhere to.
Furthermore, MDF is the most stable "wood" product available. Since it is not solid wood, MDF is much less susceptible to "breathing," meaning its painted finish is not as likely to crack due to cold, dry winters or warm, humid summers.
If you want the appeal of classic white cabinets in your kitchen, you won't find a better material than MDF.
Cherry and Oak Cabinets
Thanks to their natural characteristics, cherry and oak are two fantastic wood species for traditional kitchen cabinets.
Cherrywood is prized for its appearance and offers a traditional feel. Noted for its rich, dark, reddish-brown colour and smooth, closed-grain pattern, cherry is one of the most luxurious woods you can find for your kitchen cabinets.
And one of the most timeless!
While other popular cabinet woods like birch and maple have a more subtle grain pattern, which may not align with the eccentric sensibilities of traditional design, cherrywood offers a distinguished grain pattern that lends itself beautifully to ornate and enduring kitchen cabinets.
Oak has a light to middle brown colour with a cast of reddish hues, complemented by a straight and tight grain pattern.
While cherry has a smooth surface, oak is noted for having a prominent texture which results in more of a matte-stained finish.
However, it should be noted that cherry is generally more expensive to source than oak. While both wood species are tremendous for traditional cabinetry, it is always important to take into account your budget and your personal taste when selecting a cabinet material.
Traditional Cabinet Hardware
When it comes to kitchen design, even the smallest details can make a big impact. With the right hardware, you can showcase your taste and style preferences with lavish detail.
The hardware featured in a traditional style kitchen is often quirky and vintage-like and finished in metals such as brass, gold, oil-rubbed bronze or brushed nickel.
For a more contemporary look, black metal or chrome hardware can be a versatile choice. When it comes to traditional cabinet hardware, it's the style that is more important than the material.
A traditional design will almost always include a combination of handles and knobs. Cup pulls in particular (as seen below) are a staple for traditional cabinet hardware.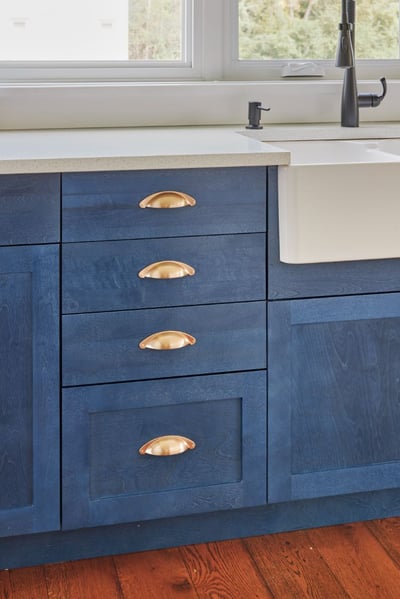 For a refined and delicate look, consider using crystal or glass knobs on your kitchen cabinets.
Traditional Kitchen Countertops
Your countertop says a lot about your kitchen. The countertop is a pivotal design element that serves as a focal point and sets a clear mood for the space.
There is perhaps nothing more alluring than the beauty of natural stone countertops. They're unique, embellishing, and can enhance any kitchen design.
The two most prominent stone surfaces in a traditional kitchen are marble and granite.
Marble Patterning
Marble countertops are characterized by their extravagant vein patterns and smooth surface, which exude elegance and instantly elevate any room they're placed in. The visual style of marble is in a league of its own.
The intricate veining of marble slabs is a hot commodity in the world of kitchen countertops and backsplashes.
For those willing to splurge, marble countertops are a luxurious addition to any home, but the price tag can be a major deterrent for many. Outfitting kitchen surfaces with marble can easily surpass $10,000. While the cost of furnishing an entire kitchen with high-end marble – including the kitchen island and backsplash – can approach as much as $30,000.
But not to worry! Modern-day traditional kitchens have a unique way of achieving the timeless allure of marble veining without breaking the bank.
They use quartz!
Did you know that quartz countertops are actually engineered products made from 93% authentic stone and 7% man-made materials? This unique manufacturing process makes them incredibly durable and allows for stunning natural stone looks.
In traditional kitchen design, quartz is typically used in the form of a natural-looking slab that mimics the appearance of marble.
"Quartz is a good way to fit a modern material into a traditional design" - Jacobs.
Another way for quartz to submerge itself in the traditional is by giving it an edge profile. Edge profiles are a simple way to incorporate some added flair and personality to the physical design of the edges of a countertop.
Think of an edged profile as decorative crown moulding, but for countertops. It sounds like a perfect match for a traditional kitchen!
Granite Countertops
Speaking of ornately profiled edges, perhaps no countertop material is more utilized in traditional kitchens than granite.
Granite, much like marble, is a natural stone highly sought-after for its unique appearance. Granite countertops usually have a tightly packed, granular aesthetic. They may have veins similar to marble, contain flecks of colour, or be entirely solid.
Granite is available in a broad spectrum of colours, ranging from light to dark hues, with each slab exhibiting some degree of variation in colour across its surface. This unique characteristic ensures that each natural granite slab is entirely one-of-a-kind.
Traditional Kitchen Flooring
Hardwood, stone, or tile floors are customary choices for traditional kitchens as they fit in with the old-school and ever-classy status quo. Once again, natural materials win out over other synthetic options like vinyl or laminate.
A true classic is hardwood flooring, and for good reason.
Hardwood floors carry a reputation of prestige that no other floor does. Even the first-time remodeler or home buyer knows that hardwood is considered by many to be the flooring industry's gold standard.
Without exaggeration, real hardwood flooring can last centuries with proper maintenance and care. A one-time investment in hardwood will handily outlast a lifetime of kitchen use in your home.
Design with Deslaurier Custom Cabinets
If you're turning back the clock with a traditional design, we hope this article helped spark ideas and set you on your way. When it comes to traditional design, natural materials like wood, stone, and metal reign supreme.
Whether you're planning a new build or kitchen renovation, Deslaurier Custom Cabinets has everything you need to create the perfect traditional kitchen design! With over 40 years of experience to our name, we provide our clients with a fully customized design process with our talented team of designers.
Book a free consultation today with a Deslaurier design expert at our Jupiter, Florida Showroom or schedule a virtual meeting!

Interested in becoming an authorized Deslaurier dealer? Visit our Become a Dealer page to learn more! Live outside the area? Find a Dealer to connect with a Deslaurier dealer near you!