Estimated Read Time: 6 Minutes
Are you trying to pinpoint the aesthetic of your next kitchen cabinets? With so much emphasis on the look of your cabinets, selecting the right door style is a significant decision in the kitchen design process.
For instance, going from a 1-piece slab door to a 5-piece raised panel can greatly influence the overall appearance of your kitchen.
So how do you know which cabinet door style is right for you?
At Deslaurier Custom Cabinets, we have over 40 years of experience designing and manufacturing high-quality custom cabinets that are tailored toward both beauty and function. In doing so, we've accumulated an impressive collection of unique cabinet door styles to ensure there's an option that matches every customer's design tastes.
With that, this article will detail 7 popular types of cabinet door styles to help you narrow down which aesthetic is right for your kitchen.
Let's get started!
5-Piece Cabinet Door Styles
As you might have guessed, 5-piece cabinet doors are constructed using 5 individual segments. A 5-piece cabinet door consists of one centre panel, while two "stiles" (running vertically) and two "rails" (running horizontally) form the frame of the door.
Depending on the door profile, the joint where the stiles and rails meet will either be a miter-joint (each piece cut at 45 degrees to join at a 90-degree angle) or a butt-joint (two flat ends abutting against one another).
When it comes to cabinet door design styles, 5-piece doors offer a wide variety of flexibility. 5-piece doors can come in shaker, raised panel, beadboard, and many other styles listed below.
The construction lends itself to anything from a modern kitchen design to a rustic farmhouse, and anywhere in between!
At Deslaurier, all of our 5-piece cabinet door styles are available in birch, maple, cherry, walnut, red oak, and rift-cut white oak. MDF (Medium Density Fiberboard) cabinets are also available for a perfectly painted finish.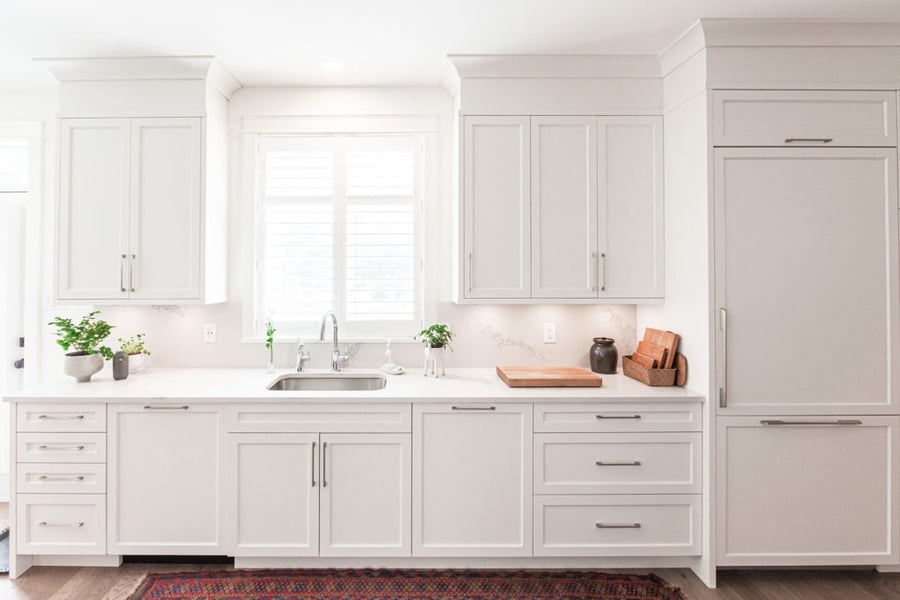 Shaker Cabinet Door
Shaker-style cabinet doors are constructed using a 5-piece solid frame with a recessed centre panel.
Shaker doors are the quintessential transitional door style.
The stiles and rails can also be narrower for a more modern door, or wider for a more traditional cabinet. Different decorative trim and crown can also be matched with shaker doors. You can dress them up with brash ornamentation, or go with a sleek, contemporary trim pairing.
Shaker doors truly aren't limited in terms of design capabilities, which makes them arguably the most universal door style.
At Deslaurier, our shaker doors are commonly manufactured using a wood veneer centre panel as opposed to solid wood, which can reduce the cost of each cabinet door by up to $50!
While this is the most popular method of construction, shaker doors are also available with a solid centre panel. However, the only time you'd use a solid centre panel instead of veneer is if the cabinets are being stained, as a stain adheres differently to both wood veneer and solid wood.
Shaker doors can also vary quite a bit in intricate ways. For instance, here are two of our most popular shaker door styles, the "Brookfield" on the left, and the "Crestfield" on the right.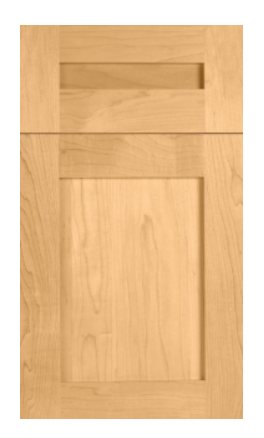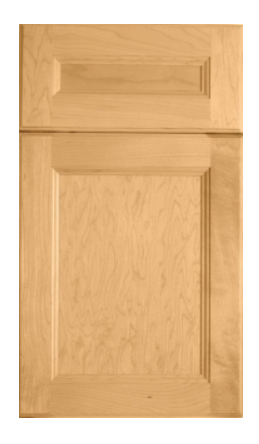 As you can see, the two are almost identical, but the Crestfield has an applied moulding that adds a slight detailing.
Visit our Learning Centre to see more of our Most Popular Cabinet Door Styles!
Raised Panel Cabinet Doors
Raised panel cabinet doors have an elevated centre panel that provides more depth and texture to the appearance.
Unlike shaker doors, which are limited to a 5-piece construction, raised panel doors can be manufactured in a number of different ways.
They can be made using a 1-piece door with router bits creating the detailing; they can also be a 5-piece door with a veneer or solid wood centre panel. On top of that, raised panel doors can also have mitered or regular edgework done.
Raised panel doors are most commonly attributed to a traditional design style. They're a 'heavier' looking door – especially with a solid centre panel – and are often accompanied with more decorative trim and mouldings.
For MDF cabinets, we try to always use a 1-piece door to ensure the paint will never crack due to "breathing" – the natural occurrence of wood expanding and contracting due to temperature or humidity changes.
Going from a 5-piece door to a 1-piece door negates the risk of any movement or joint separation and also provides a pristine painted finish.
Cathedral & Arched Doors
Cathedral and arched cabinet doors feature an arch or cathedral-styled arch at the top of the door's centre panel. These styles offer the most traditional-looking cabinet door – think 90s era oak kitchens.
Here's an example of our "Lakefield" 5-piece doors with a cathedral-style centre panel.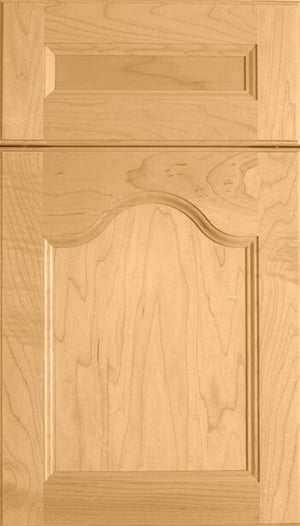 While our Lakefield doors have a flat centre panel, many cathedral or arched cabinets include a raised centre panel that further emphasizes traditional design principles.
Slab Doors
Slab (flat-panel) doors are flat and frameless. They are the quintessential door style for modern kitchen designs.
While you can dress them up with sleek and thin cabinet handles, it's very common to go with no hardware by implementing recessed bottoms or tip-on and touch latches.
Our slab door styles are always in a wood veneer (never solid wood) based on the fact that solid wood doors are heavier and more expensive to manufacture. Slab doors also come in a variety of modern products like textured melamine, PET, thermofoil, and acrylic materials.
A benefit of slab doors is that the flat panel with no stiles or rails allows for the wood grain to be prominently on display.
Take a look at our "Urban" slab doors on display in textured melamine: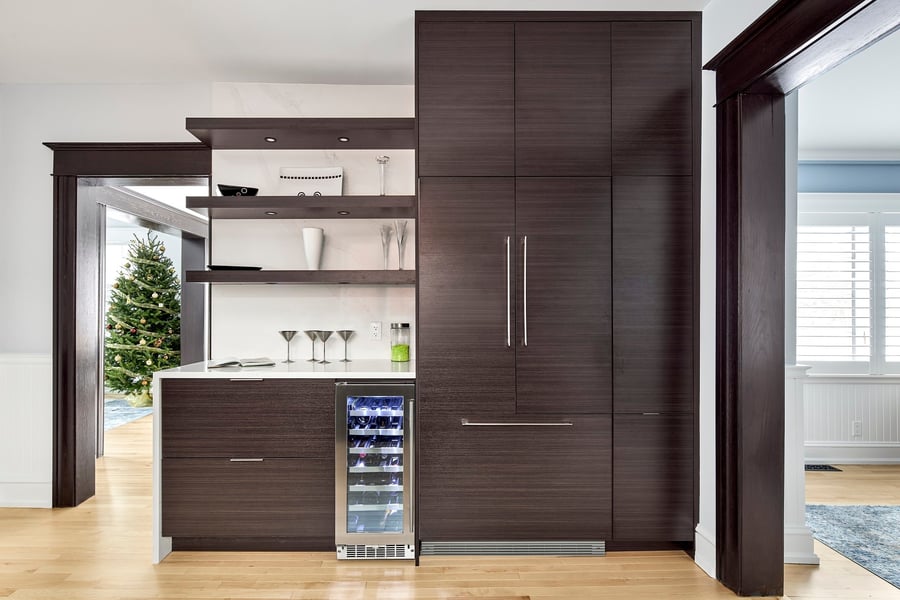 An aspect of slab doors that can be quite limiting is their fairly simplistic style. They aren't decorative, which means you will be extremely restricted with moulding and crown you can select to pair with your cabinetry.
However, if you're after a modern kitchen, slab doors are the way to go.
Beadboard Cabinet Doors
Beadboard (or "Beaded") cabinet door styles are a great way to add a cottagey or rustic feel to your kitchen space.
Beading refers to the thin lines or grooves cut into the wood centre panel. They pair well in a farmhouse or country-style kitchen that might have wood ceiling beams or a rustic, distressed aesthetic.
Our beadboard door style, the "Stonewood," has a 1 ½" decorative beading along the centre panel.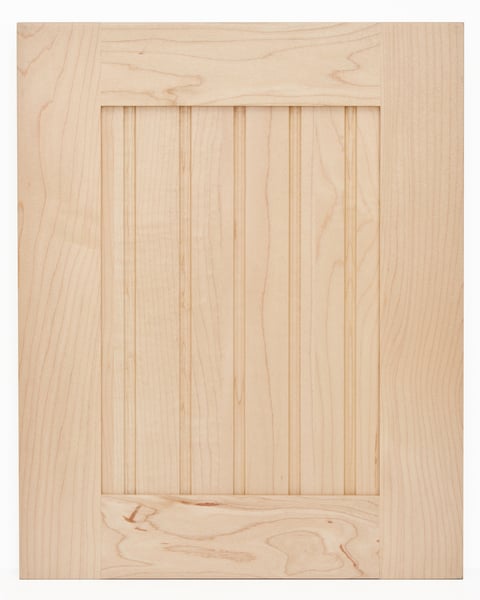 Beading is also a beautiful way to add a little decorative flair to a kitchen island or peninsula back panel, as is done in our showcase Devil's in the Details.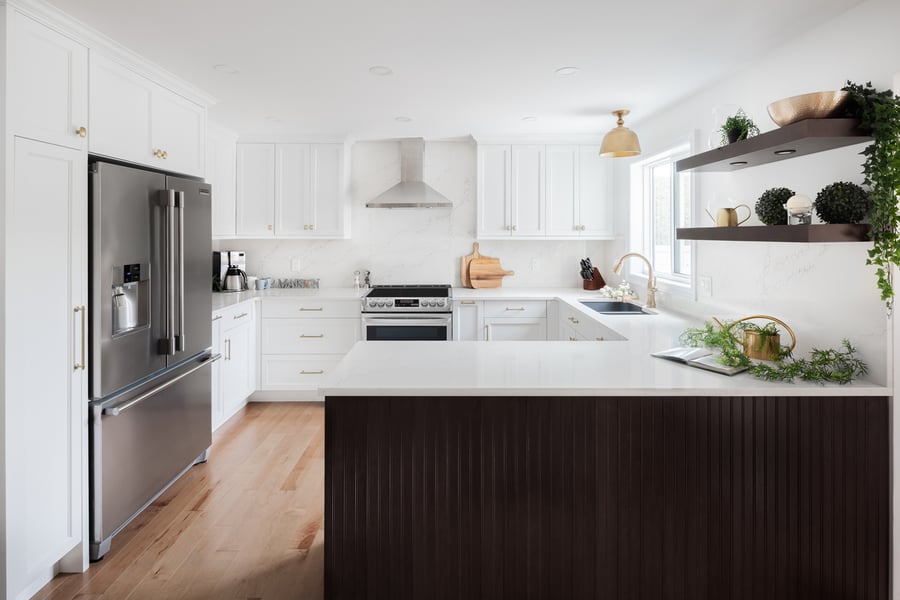 Mullion Cabinet Doors
Mullion cabinet doors have a glass insert with mouldings that divide an open frame. The name "mullion" actually refers to the frames that run vertically or horizontally on a window or glass door.
Mullion doors are often implemented for upper cabinets to highlight beautiful dinnerware or wine glasses. For that reason, they're also quite common for bar areas or china cabinets.
The glass inserts on mullion doors can be clear for a seamless display, or with textured and tinted glass so you don't have to constantly worry about a perfectly presentable interior cabinet.
Looking for the perfect door style for your dream kitchen? Kickstart your design process today and book a free consultation with a Deslaurier kitchen expert!
Open Frame Cabinet Doors
Open frame cabinets have a door frame with a large glass insert in the middle. They are effectively mullion doors without the interior mouldings.
Much like mullion doors, open frame cabinets are great for presenting aesthetically pleasing objects inside your cabinets.
Open frame cabinets also make a great accent piece in a broader cabinetry unit. Take a look at these black metal frame cabinet doors with textured glass inserts from our Brooklyn on Brookfield showcase.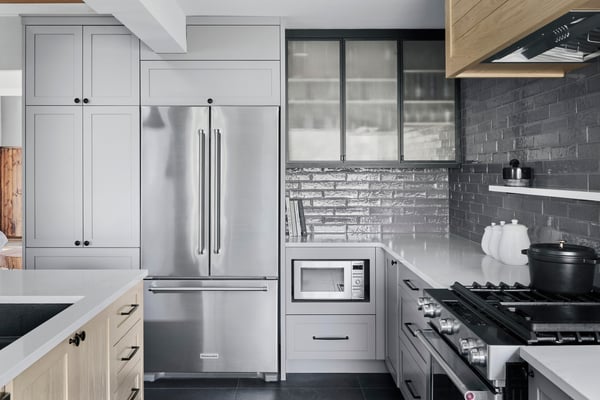 Design with Deslaurier Custom Cabinets
At Deslaurier, we believe there's a cabinet door style in our collection for every design taste.
Book a free consultation and look through our extensive catalogue of over 70+ cabinet door styles with a Deslaurier kitchen expert at our Jupiter, Florida showroom today!
If you have your eye on custom cabinetry, Deslaurier Custom Cabinets has everything you need. With over 40 years of experience to our name, we provide our clients with a fully customized design process with our talented team of designers.
Interested in becoming an authorized Deslaurier dealer? Visit our Become a Dealer page to learn more! Live outside the area? Find a Dealer to connect with a Deslaurier dealer near you!