20/09/2022 • Blog
7 Ideas for the Perfect Basement Bar Design
Estimated Read Time: 7 Minutes
A basement bar is one of the finest additions you can have in a finished basement.
Whether you love entertaining large gatherings or just like to kick back with a handcrafted cocktail, a basement bar is a home addition well worth the investment.
At Deslaurier, we have over 40 years of experience manufacturing custom cabinets and providing kitchen and bathroom design expertise to our clients. In that time, we've worked on plenty of home bar designs, tailoring each project to the homeowner's individual needs.
In this article, Deslaurier Designer Lavanya Gurumoorthy offers 7 expert design tips that will help you craft the perfect basement bar.
Let's get started!

1. Make it a Wet Bar
A wet bar is a home bar that includes a sink with running water and plumbing fixtures, as opposed to a dry bar which doesn't contain a sink or plumbing of any kind.
Including a sink in a home bar is always dependent on the client and their budget. It's an expensive addition to an already expensive feature in the home. You'll need to install the appropriate plumbing, on top of the cost of the actual sink.
For upstairs bars located near a kitchen, a sink is not always a necessary item to include. For a basement bar, however, you're more inclined to want a sink in the direct vicinity. It allows you an area to clean up, wash glasses, and a water source to wipe down any bar area messes.
2. Try to Avoid Natural Wood
There's a reason natural wood is the most popular building material in the world. It's durable, beautiful, and adds a uniquely organic feel to your home that other materials just can't match.
However, authentic natural wood is at risk of slowly expanding and contracting over time due to changes in temperature and humidity, something known as "breathing." The slow expansion and contraction of the wood can cause stress cracks, specifically in any joints.
In a damp space like the basement, that's not ideal.
Cabinet Materials
If you do include natural wood cabinets, be sure they are well taken care of:
"Humidity will affect natural wood. Make sure that you have a dehumidifier or humidifier if you want natural wood cabinets."

- Lavanya Gurumoorthy, Deslaurier Design Expert
Otherwise, you might want to consider alternative cabinet materials in your basement. MDF is the ideal choice for painted cabinets. Not to mention thermofoil is always a great option for a painted aesthetic.
If you're looking for a wood grain appearance, there are a number of engineered materials to choose from. The best option being textured melamine.
Textured melamine provides an impressive replica of natural wood grain in a much more stable product. There's no worry of "natural" movement in the wood and since it's an engineered product, textured melamine actually offers a perfectly consistent grain pattern as opposed to the unpredictability of authentic natural wood.
You can even go with a higher-end version, like European Textured Melamine (ETM). ETM produces a more prestigious material than standard melamine – with deeper textures and colours, ETM features a more realistic-looking wood grain, and even feels more like natural hardwood.
It's much more expensive than regular textured melamine, but if you want the authentic look of natural wood in a much more stable material. ETM is as good as it gets!
Vinyl Flooring
Similarly to laminate, vinyl flooring is an entirely synthetic material. Vinyl flooring has seen an increase in popularity thanks to its authentic look, design flexibility, and price point.
Better yet, modern engraving techniques allow homeowners to source vinyl look-alikes of ceramics, stone, and, of course, hardwood flooring. Think of vinyl as the textured melamine of hardwood flooring.
Vinyl flooring is perfect for bar areas, as many products are 100% waterproof and fare well against stains and scratches. They also come at a fraction of the cost of genuine hardwood flooring, with the average price of vinyl flooring ranging from $1.50 to $4 per sq. ft.
You won't find a more cost-effective material that's better suited for the spills and messes of a basement bar than vinyl flooring.
3. Bar Seating
A staple for any basement bar is spacious, comfortable seating for entertaining guests.
While your basement will no doubt have casual couch or recliner seating, it's always a nice touch to include some classic barstool seating as well. Unlike an upstairs bar that might be situated near the accommodations of a kitchen or dining room, the convenience of built-in seating for your basement bar will go a long way.
The best way to incorporate seating for any home bar is with countertop overhang, just like you would a kitchen island.
For starters, make sure you design your island with enough space underneath the counter for your knees. Generally speaking, a countertop overhang of 12-18" is a good place to start.
If you really want to be able to tuck in your bar stool underneath the overhang or worry about the hazard of island chairs sticking out into the basement area, having an overhang depth closer to 18" would be ideal for you.
Take a look at the kitchen seating from this custom cottage as inspiration: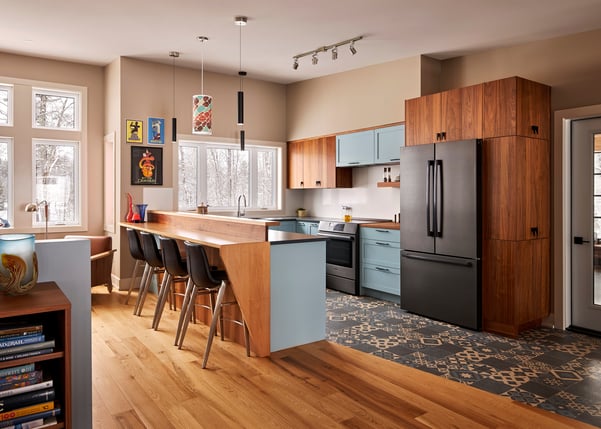 This method creates a unique two-tone design through separate countertops, while also ensuring that the seating and the bar area both have adequate surface space for its users.
While having two adjoining surfaces does require more space than typical bar-top seating, the extra room it creates on both sides is well worth it.
4. Install Plenty of Lighting
Adequate lighting is a must-have for any basement bar. Basements are often dim and dark spaces with minimal to no natural lighting. The more subtle lighting you might install in your kitchen and upstairs living spaces won't cut it in the dullness of a basement.
Including under-cabinet lighting is a necessity for any type of bar area, but basement bars, in particular, will benefit from including as much extra lighting as you can manage.
Under-cabinet (and shelf) lighting is the most effective form of task lighting for any work surface. Better yet, they can also be hidden in plain sight using recessed cabinets, valances, or coverboards.
Whether you're crafting intricate cocktails, reading bottle labels, or just delicately slicing limes, ensuring that your work surface is well-lit is a major benefit to any basement bar.
5. Quartz and Dekton Countertops
Whether drinks are being made or being spilled, liquid is a natural part of any bar area — especially a wet bar.
You want your bar surface to be both water and stain-resistant. There are two popular kitchen countertop materials that are prized for those characteristics: Quartz and Dekton.
Quartz and Dekton are both engineered materials. Quartz countertops are 93% quartz with 7% additional resins and polymers. Dekton, on the other hand, is a fully engineered countertop made by forming raw materials under extreme heat and pressure in order to create a synthetic surface.
Unlike popular natural stone countertops, like granite and marble – both of which are porous and vulnerable to water and stains, requiring them to be regularly resealed – the engineered nature of Duartz and Dekton countertops result in them being entirely nonporous.
With this, Quartz and Dekton are effectively set-and-forget low-maintenance countertop surfaces. That means you don't need to worry about yearly (or multiple times a year in the case of marble) resealing. You can endure wine splashes and cocktail spills stress-free.
An added benefit of Dekton is you can cut directly on the surface. In fact, you'd have to worry about your knife blades more than you would your countertop! Whether you're slicing citrus fruits for cocktails or cheese for a charcuterie board, you can prep directly on Dekton surfaces.
6. Include a Backsplash for Your Wet Bar
A backsplash is always ideal but becomes a must-have when discussing an area like a basement wet bar. A backsplash is the best means of preventing water and other liquids from damaging the wall behind it.
Not only will it protect your drywall, but a nice backsplash also offers some of the most unique opportunities for any design element. You have the freedom to get a little creative with your design and go with a mosaic tile or intricate pattern.
Especially for areas behind a sink or mixing station, where liquid splashes are commonplace, a wet bar backsplash not only looks great but safeguards your walls.
7. Floating Shelves and Glass Cabinets for Display
The display is a major consideration for home bar designs. Depending on what you're displaying – wine, liquor bottles, or elegant glassware, to name a few – there are two key ways you can present your collections: with floating shelves or glass cabinets.
Both methods offer great conversation starters, or, in the case of glass cabinets, they can function as their own distinct accent piece in your basement bar's overall design.
If you have a liquor bottle collection, floating shelves are a must-have. Not only are they great for displaying your bottles, but they offer easy and open access whenever you're ready for a drink.
"Start from your tallest bottle and work your way down to make sure you have enough clearance" - Lavanya Gurumoorthy
Whether you have an impressive collection of glasses, stemware, beer mugs, or shot glasses, there's no better place to display them than in glass cabinets.
"Glass cabinets are the best spot for your display. I always try to include at least a couple of glass doors." - Lavanya
Why not mix both features together?
Consider having floating shelves nestled between two glass cabinets for a best-of-both-worlds combination of bar storage and display.
Design with Deslaurier Custom Cabinets
Are you looking to create the perfect basement bar for your home?
Deslaurier Custom Cabinets has everything you need! Book a consultation today with a Deslaurier design expert at our Jupiter, Florida Showroom or schedule a virtual meeting!
If you have your eye on custom cabinetry, Deslaurier Custom Cabinets has everything you need. With over 40 years of experience to our name, we provide our clients with a fully customized design process with our talented team of designers.

Interested in becoming an authorized Deslaurier dealer? Visit our Become a Dealer page to learn more! Live outside the area? Find a Dealer to connect with a Deslaurier dealer near you!