Estimated Read Time: 6 Minutes
Are you trying to pinpoint the aesthetic of your next kitchen cabinets?
With so much emphasis on the look of your cabinets, selecting the right door style is a significant decision in the kitchen design process.
At Deslaurier, we have over 40 years of experience designing and crafting custom cabinets that look great, and perform even better. In that time, we've provided thousands of clients with the perfect cabinet door style for their dream kitchen.
In this article, we'll compare the ins and outs of two of the most popular kitchen cabinet door styles: shaker and raised panel.
With that, let's get to it!
5-Piece Cabinet Doors
As you might have guessed, 5-piece cabinet doors are constructed using five individual segments. A 5-piece cabinet door consists of one centre panel, while two "stiles" – running vertically – and two "rails" – running horizontally – form the frame of the door.
Depending on the door's profile, the joint where the stiles and rails meet will either be a miter-joint (each piece cut at 45 degrees to join at a 90-degree angle) or a butt-joint (two flat ends abutting against one another).
At Deslaurier, all of our 5-piece doors are available in birch, maple, cherry, walnut, red oak, rift-cut white oak, and MDF (Medium Density Fiberboard).
When it comes to cabinet door design styles, 5-piece doors offer a wide variety of flexibility. 5-piece doors can come in shaker, raised panel, beadboard, and many other styles.
Given that shaker and raised panel are very popular door styles, we will be comparing the two styles throughout this article.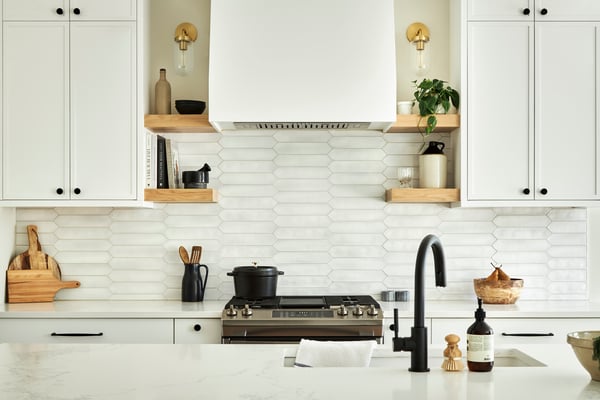 What are Shaker Cabinet Doors?
Shaker-style cabinet doors are constructed using a solid 5-piece frame with a recessed centre panel.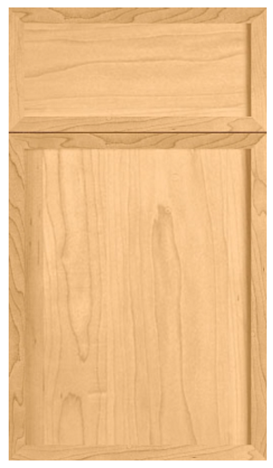 At Deslaurier, our shaker doors are commonly manufactured using a wood veneer centre panel. While this is the most popular method of construction, shaker doors are also available with a solid wood centre panel.
However, the only time you'd use a solid centre panel instead of veneer is if the cabinets are being stained, as a stain adheres differently to both wood veneer and solid wood.
While shaker doors are manufactured as a 5-piece door for natural wood and MDF, they can also come in 1-piece doors for thermofoil cabinets. This is because thermofoil only comes in a 1-piece door construction, using a variety of routered bits to create different door profiles.
While slab (flat) doors are a popular choice for thermofoil cabinets, there are plenty of other detailed profiles that are available, including shaker and raised panel doors.
It should be noted that all edges of thermofoil doors will be rounded to an extent. This is because in order to apply thermofoil to a cabinet door, there needs to be a radius. Since this radius is required, the edges and corners of the detail in thermofoil doors won't be as sharp as painted or stained options.
Take a look at a thermofoil shaker door next to a painted MDF shaker door: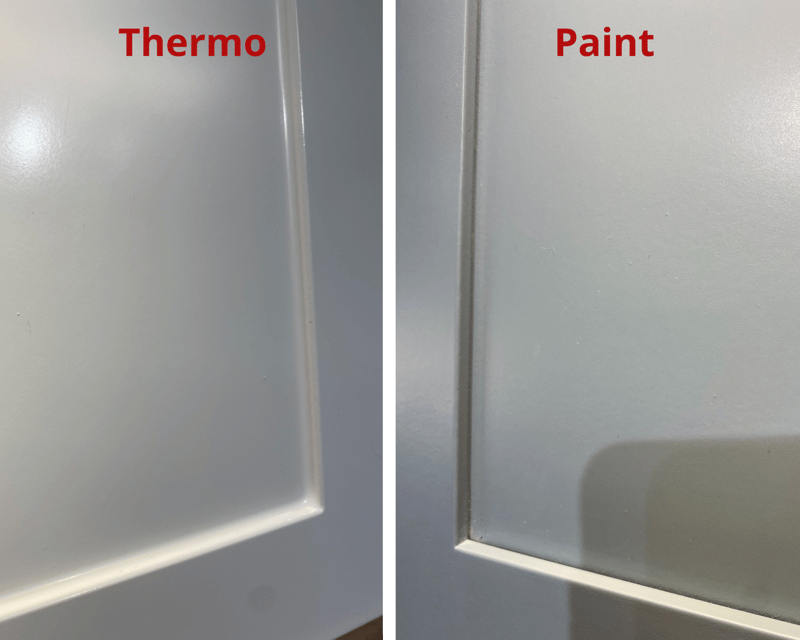 Notice how the edges of the thermofoil doors are slightly more rounded than the painted MDF? That sharper aesthetic can not be achieved on thermofoil doors, and should be something to consider when choosing your preferred cabinet design.
What are Raised Panel Doors?
Raised panel cabinet doors have an elevated centre panel that provides additional depth and texture to the appearance. They are most commonly manufactured in a 5-piece door with a veneer or solid wood centre panel.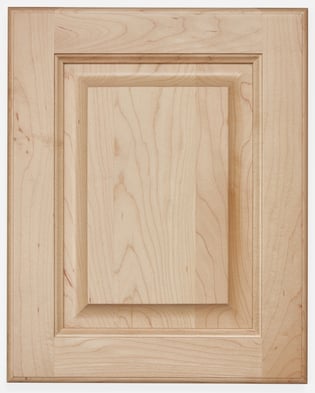 Unlike shaker doors, which are limited to a 5-piece construction – excluding thermofoil – raised panel doors can be manufactured in a number of different ways.
Particularly for painted MDF, raised panel doors can be made in the same manner as thermofoil doors: using a 1-piece door with router bits to create the door profile.
Utilizing a 1-piece door helps to ensure the painted finish will never crack due to "breathing" – the natural occurrence of wood expanding and contracting due to temperature or humidity changes.
Going from a 5-piece door to a 1-piece door negates the risk of any movement or joint separation, providing a pristine painted finish for MDF cabinets.
Shaker vs. Raised Panel: Design Styles
Shaker doors are the quintessential door style for a transitional design. They have the ability to be included in almost any kitchen design. The stiles and rails can be sleek and narrow for a more modern door, or wider to contribute to a more traditional cabinet.
Shaker doors can also vary quite a bit in intricate ways. For instance, here are two of our most popular shaker door styles, the "Brookfield" and the "Crestfield".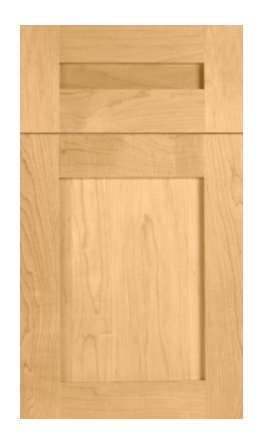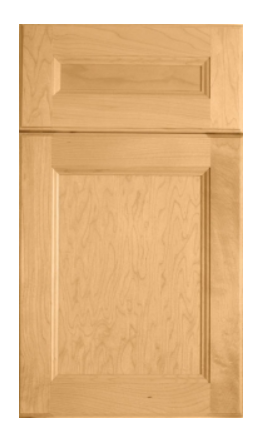 As you can see, the two are almost identical, but the Crestfield has an applied moulding on the interior of the frame that adds subtle detailing to the door.
Shaker doors truly aren't limited in terms of design capabilities, which makes them arguably the most universal door style.
Visit our Learning Centre to see more of our Most Popular Cabinet Door Styles!
In contrast, raised panel doors are associated with a traditional kitchen design style. They're a 'heavier' looking door, especially when paired with a solid centre panel.
While they may be limited when it comes to the kitchen design category they fall into, raised-panel doors have plenty of different door profiles and design styles.
They can be paired with the clean lines of shaker door stiles and rails, or incorporated with arched and cathedral-shaped designs. Cathedral and arched cabinet doors feature an arch or cathedral-styled arch at the top of the door's centre panel.
These types of door designs increase the decorative look of your cabinetry and provide even more traditional sensibilities to a raised-panel door. On top of that, raised panel doors can also have mitered or regular edgework done.
For a deeper look into different designs, read our article detailing 7 Popular Kitchen Cabinet Door Styles!
Shaker vs. Raised Panel: Trim & Mouldings
In the midst of a first new build or kitchen renovation, many homeowners aren't familiar with the number of ancillary elements that come along with their cabinetry.
Picking your cabinet material, finish, and door style is just the beginning. There are a number of accent pieces that accompany your cabinets; including crown moulding, decorative trim, paneling, and valances.
These features all work together to accentuate the overall aesthetic of your kitchen, and in doing so, need to coordinate with your main cabinetry design.
Furthering the versatility of shaker doors is their ability to pair well with different decorative trim and crown moulding styles. You can dress them up with brash ornamentation, or go with a sleek, contemporary trim pairing.
Due in part to their traditional style, raised panel doors will often be accompanied by more ornate decorative trim and mouldings than shaker cabinets.
You typically wouldn't incorporate flat trim and mouldings with a raised-panel door. Instead, cabinet accent pieces would be enhanced with embellished, expansive mouldings, and ornamental trim throughout the kitchen design.
Shaker vs. Raised Panel: Cost
The cost of a 5-piece door construction can fluctuate from one design style to the next.
When discussing the cost of door styles, one of the main determinants comes down to the construction of the centre-panel. A wood veneer centre panel is far more cost-effective than a solid wood panel, and that is why wood veneer is the more common material chosen.
As an example, using a wood veneer centre panel as opposed to solid wood can reduce the cost of each cabinet door by up to $50! Depending on the size of your kitchen, that can result in saving thousands of dollars.
In addition to the centre panel, things like mitered edging, and any applied mouldings will also increase the cost of a door style. The most expensive door style available would be a raised panel door with a solid wood centre panel, mitered edges, and applied mouldings.
Ultimately, the less material or labour included in a particular door style, the less expensive that door will be.
Design with Deslaurier Custom Cabinets
At Deslaurier, we believe there's a cabinet door style in our collection for every kitchen design.
Book a free consultation with a Deslaurier kitchen expert and look through our extensive catalogue of over 70+ cabinet door styles at our Jupiter, Florida showroom!
If you have your eye on custom cabinetry, Deslaurier Custom Cabinets has everything you need. With over 40 years of experience to our name, we provide our clients with a fully customized design process with our talented team of designers.
Interested in becoming an authorized Deslaurier dealer? Visit our Become a Dealer page to learn more! Live outside the area? Find a Dealer to connect with a Deslaurier dealer near you!