Estimated Read Time: 6 Minutes
When you think about kitchen countertops, your mind immediately jumps to luxurious stone surfaces like quartz, granite, and marble.
Butcher block countertops are perhaps a lesser-known option in kitchen design, but you shouldn't let that deter you. Wooden countertops bring a neutral, earthy vibe to homes and are particularly great for cottagey, rustic aesthetics like a farmhouse-style kitchen.
At Deslaurier, we specialize in all things custom cabinets and kitchen design. In doing so, we've crafted numerous kitchens and custom accent units that have been accentuated by the use of butcher block countertops.
With that, this article will tell you everything you need to know about butcher block kitchen countertops so you can decide if they are the right surface for your kitchen.
Let's get started!

What Are Butcher Block Countertops?
Butcher block kitchen countertops are thick wood surfaces that can be made in a variety of different species and styles.
They are manufactured by gluing multiple sheets of natural wood veneer together to create a compact, thick countertop.
Even more, butcher block countertops can produce some of the most remarkable kitchen countertops you've ever seen!
Not to mention, the wood goes with anything. Homeowners often mix and match wood and stone counters for a best-of-both-worlds result.
Take a look below at a beautiful butcher block island countertop paired with natural stone perimeter surfaces: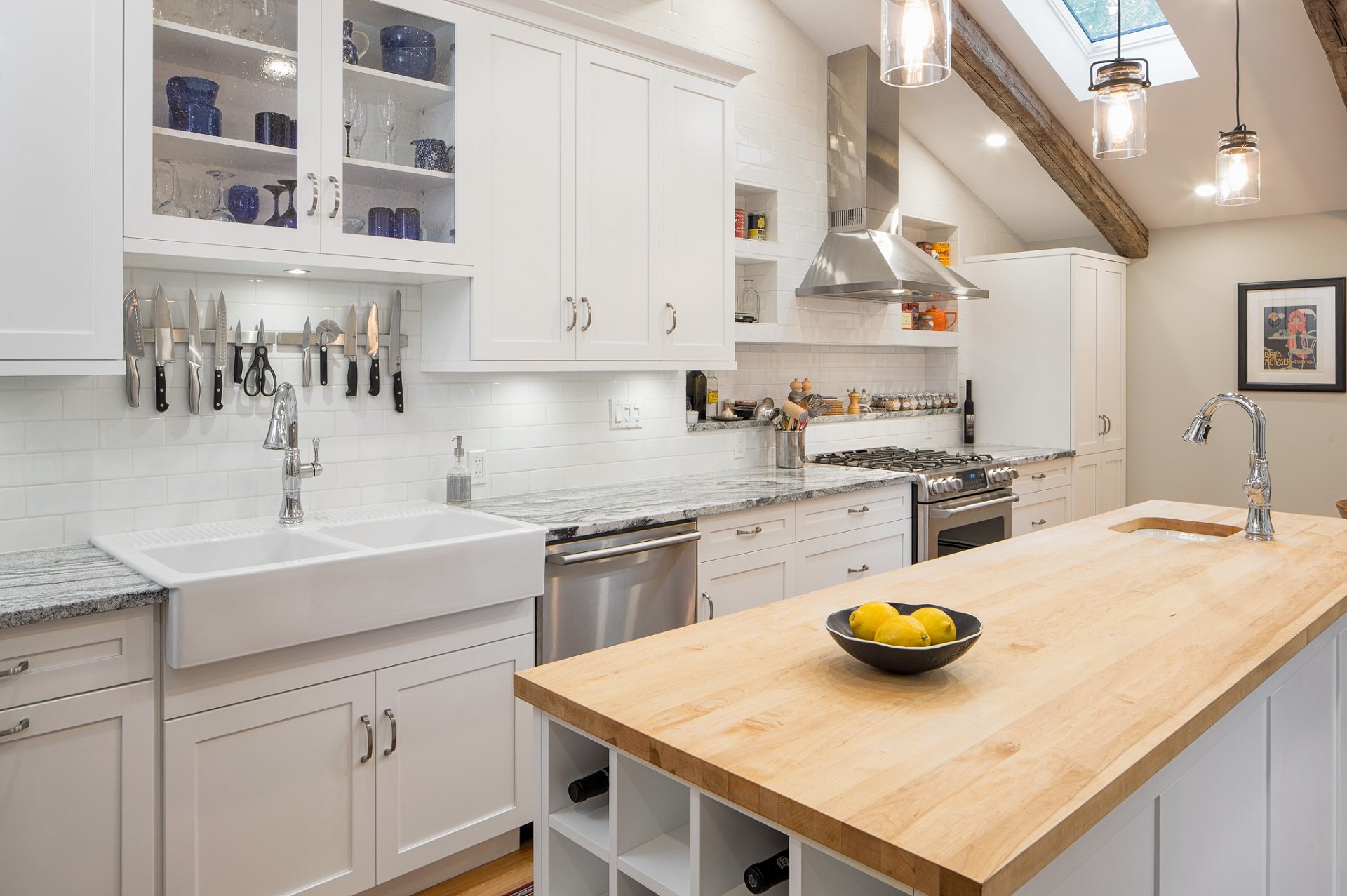 Popular Woods For Butcher Block Countertops
There's a lot of variety when it comes to wood species available for butcher block countertops, with maple, birch, cherry, walnut, bamboo, and teak, as some of the most common.
Butcher block counters in cherry, maple, walnut, and even teak provide rich colours; both light and dark.
Closed-grain woods like maple and birch are the ideal solution for butcher block surfaces being installed in the primary kitchen work area. Whereas oak, an open-grained wood, is less practical for direct food preparation.
Having said that, oak is still a great wood species to incorporate for lower-use butcher block countertops that can fully accentuate their more open and intricate wood grain patterning.
Types of Grain Patterns
The customization of butcher block countertops doesn't stop at just the different wood species you can use.
With their unique construction method, butcher block countertops allow you to spark your artistic side by selecting four unique wood grain patterns: End-Grain, Edge-Grain, Face-Grain, and Blended.
Each style will offer distinctive characteristics ranging from appearance, strength, and cost.
End-Grain
Noted for their "checkerboard"-esque appearance, end-grain countertops are created by combining pieces of wood vertically, allowing the ends to show.
End-grain is the most expensive method of construction due to how many individual pieces of wood are being used, as well as the additional glues and resins needed to combine the materials into a single countertop.
Thanks to their compact construction, end-grain surfaces are also the strongest and most durable butcher block countertop method available.
Edge-Grain
Edge-grain is the most affordable option, made by attaching straight cuts of wood parallel to one another with their edges exposed. Thanks to this, they create strong and stable countertop slabs.
Unlike end-grain, an added bonus of edge (and face) grain surfaces is that they can be made joint-free (lengthwise), depending on the size of the countertop.
Face-Grain
Face-grain, or "wide plank" countertops, are created by using wide, flat boards of wood.
These countertops are less practical for a high-performance surface – they're more susceptible to stains, dents, and scratches – but they undoubtedly offer the most stylish and aesthetically pleasing appearance of the four methods.
Blended
Blended butcher block countertops are manufactured by finger-jointing different lengths of wood together.
Blended surfaces offer a less consistent appearance than edge or face-grain styles, but can combine different species and colours of wood into one congruent slab for its own unique aesthetic.
Butcher Block Countertop Durability and Maintenance
There are a number of durability and maintenance concerns that go along with butcher block countertops. Owners will need to stay on top of mineral oil treatments to maintain the outer layer protection of their wood surfaces.
Butcher block is made from natural wood, resulting in it being prone to swell in hot temperatures and rot in wet conditions. However, properly sealed and treated countertops should stand up well against liquid spills unless they are exposed for extended periods of time.
Butcher block is also an extremely soft material and prone to cuts and scratches. While these countertops may seem like a convenient, built-in cutting board, don't use them as such unless you're ready for the weathered, scratched effect it causes.
If you do plan on meal prepping and cutting on your butcher block countertop, an end-grain style surface is what you'll want. They are durable and their checkerboard patterning will disguise any scratches. End grain surfaces also won't damage your knives as the blades will cut with the grain as opposed to against it.
You'll also want to be wary of applying direct heat. A hot pan will quickly scorch a burn mark into the wood.
The silver lining here is that butcher block damage is easily undone. A quick sanding with fine sandpaper is all it takes to erase surface flaws.
Butcher Block Countertops are Eco-Friendly
Butcher-block is one of the most eco-friendly materials you can find for countertops.
Depending on the manufacturer, butcher-block countertops can be created solely using reclaimed wood and local materials. Avoiding the use of toxic finishing products can also help ensure your butcher-block kitchen countertop is as eco-friendly an option as possible.
Reclaimed wood is processed wood that has been retrieved from its original application and harvested for new uses. Think old barns, decks, factories, and other buildings. It's a phenomenal way to salvage old lumber and utilize them for a new function. In this case: butcher block kitchen countertops.
Take a look at this butcher block surface from a Detroit-based company that utilizes the beautiful end-grain patterning of salvaged pine from local Detroit homes. A variety of reclaimed woods can also be paired together to create some truly unique looking blended butcher block surfaces.
Reclaimed wood butcher blocks are a great way to create a stunning aesthetic statement in your kitchen design while also making a big impact through your environmental choices.
Cost of Butcher Block Kitchen Countertops
In terms of price, butcher block countertops are more expensive than a budget-friendly material like laminate, but are still a cost-effective solution compared to the prices of stone surfaces.
Butcher block prices will primarily depend on the wood species you choose, the grain pattern it's constructed in, and the supplier you purchase it from.
All things considered, butcher block countertops generally cost between $35 to $100 per sq. ft.
If you want to see where butcher block ranks in the countertop pricing hierarchy, check out our article on the Cost of 6 Popular Kitchen Countertop Materials!
Utilizing Butcher Block Outside the Kitchen
Butcher block countertops – and more broadly wood products in general – are extremely versatile in their ability to mesh well in multiple settings.
For decades, home offices or "dens" have been a space where prized, elegant desks, made of traditional woods like mahogany, cherry, and red oak, have been prominently on display.
Butcher block surfaces, specifically face-grain patterns, provide the warmth and natural characteristics of these older wooden desks in a more contemporary manner. The surfaces pair nicely with the functionality and quality of modern day cabinets, cultivating a new-wave version of wooden-surface office desks.
From the den to the bartop, natural wood's flexibility allows butcher block surfaces to shine. Of course, a bar area is prone to spills and liquid, something not ideal for the long-term fortune of a wooden surface. However, as we mentioned above, a properly maintained butcher block countertop is more than capable of withstanding common spills and messes.
Lastly, butcher block countertops are the perfect surface to use as an accent piece just outside the primary kitchen area for smaller spaces like a coffee nook or wall unit. All it takes is the right wood surface for these areas to pop as eye-catching highlights in your home.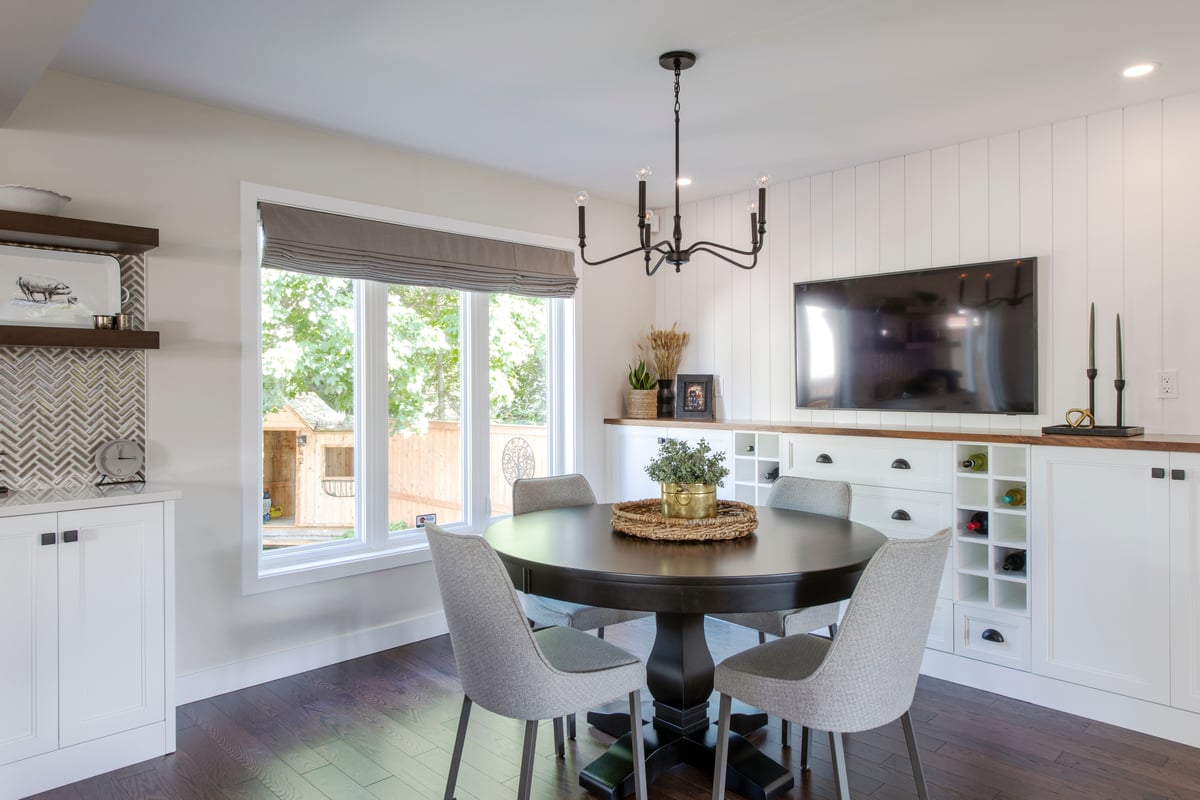 Wood has and always will be a versatile building material, and butcher block countertops are no different.
Discover Deslaurier Custom Cabinets
If you're looking to pair custom cabinetry with the perfect butcher block kitchen countertop, Deslaurier Custom Cabinets has everything you need.
With over 40 years of experience to our name, we provide our clients with a fully customized design process with our talented team of designers. Book a consultation for a one-on-one with a Deslaurier kitchen expert virtually or in-person at our Ottawa showroom!

Interested in becoming an authorized Deslaurier dealer? Visit our Become a Dealer page to learn more! Live outside the area? Find a Dealer to connect with a Deslaurier dealer near you!