19/04/2022 • Blog
Everything You Need to Know About Two-Tone Kitchen Cabinets
Estimated Read Time: 6 Minutes
Finding ways to be creative with a kitchen's aesthetic is a driving force for kitchen designers and homeowners alike.
As it is often referred to as the heart of the home, the kitchen is the most important room in the house when it comes to resale value.
For better or worse, many homeowners opt to play it safe with the look of their kitchen.
Even so, there are still plenty of ways to add a little flair and personality to your kitchen while still obtaining universal appeal.
An increasingly popular way to do that is by implementing two-tone kitchen cabinets.
At Deslaurier Custom Cabinets, we're experts in all things custom cabinetry. We understand how important it is for kitchen's to be both functional and beautiful. Over the years, we've designed plenty of kitchens for our clients seeking a two-tone cabinet aesthetic.
With that, let's dive into everything you need to know about two-tone cabinets and how you can achieve them in your kitchen design.
What is a Two-Tone Kitchen Design?
A two-tone kitchen design is composed of two sets of cabinets that are different colours. Think painted white uppers paired with darkly coloured base cabinets.
For decades, kitchens were designed with matching cabinetry. The upper cabinets are the same colour or stain as the base cabinets, creating a perfectly uniform kitchen.
In recent years, homeowners have been drifting away from single-colour kitchens. Gone are the days of the antiquated honey coloured oak kitchens. Even consistently popular all-white kitchens are being swapped for two-tone cabinets.
These mix and match designs provide an exciting juxtaposition that breathes energy into the kitchen space while still being able to include the timeless allure of neutral white cabinets or natural wood tones.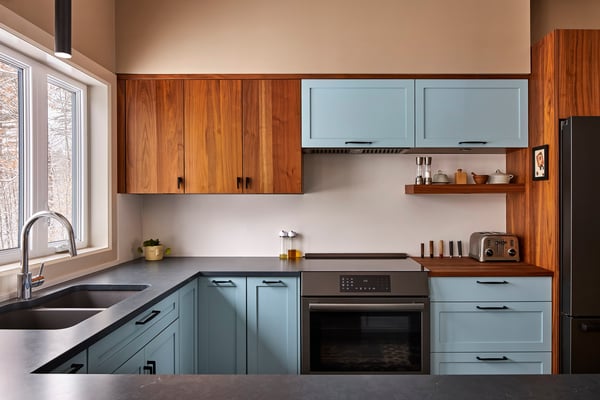 4 Design Advantages of a Two-Tone Kitchen
The concept of two-tone kitchen cabinets is nothing new. However, they have seen a rise in popularity in recent years and it seems the design trend is only going to increase going forward.
One of the key reasons to implement two-tone cabinets is that they are a unique outlet for creativity. They allow homeowners the opportunity to be a bit more daring in their kitchen while still encompassing classic design attributes that have universal appeal.
Narrowing down your selections for a single-tone kitchen can be tough. During your kitchen design process, you'll no doubt find yourself struggling to narrow your cabinet features down to just one selection.
What you'll love about two-tone kitchens is that they don't just stop with the colour of the cabinets. Two-tone cabinets allow homeowners to incorporate other features that may otherwise clash in single-toned kitchens.
The design flexibility lends itself to door styles, cabinet materials, and hardware.
1. They Add More Colour to The Space
As we mentioned above, kitchen designs are becoming braver.
Two-tone designs have the ability to include cabinets with timeless qualities, such as painted white or natural wood tones, and complement them with bolder selections like deep greens, light blues, or black.
These adventurous cabinets, previously reserved for traditionally more expressive areas of the house like bathrooms or the laundry room, are now more commonly emerging in the kitchen thanks to two-tone designs.
Of course, there's nothing wrong with all-white kitchens; they're a classic for a reason! Two-tone cabinets simply empower the capacity for a more dynamic, flavourful kitchen aesthetic.
2. Implement Multiple Door Styles
Two-tone cabinets allow you to implement multiple door styles within the same kitchen. Typically, it's quite strange to see two different door styles with the same finish.
It allows you to pair together two similar door styles, or juxtapose contrasting design principles by using a traditional door with a more modern selection.
3. You Can Use Different Cabinet Materials
Comparing cabinet materials is one of the most crucial aspects of the kitchen design process.
With so many different natural woods or man-made alternatives to choose from, it's difficult to settle on a selection.
You can pair painted MDF with a luscious cherry or walnut. Or mix and match two different natural woods to play with varying wood grains and colours.
4. Two Sets of Cabinet Hardware
Although a subtle element of kitchen design, cabinet hardware has a powerful influence for such a small piece of the kitchen puzzle.
You can keep it simple and use contrasting sets of hardware like silver and black. Or you can get creative and go with some elegant brushed gold on a traditional 5-piece door, paired with flat slab doors with no hardware at all.
Interested in the concept of two-tone cabinets for your dream kitchen? Kickstart your kitchen design process by booking a free consultation with a Deslaurier kitchen design expert today!
Painted Two-Tone Kitchens
There are multiple different avenues to achieve a two-tone kitchen cabinet design. One of the most common ways is to utilize two sets of different coloured painted cabinets.
With so many paint colours and custom colour matching available, painted cabinets are a great way to achieve a two-tone design.
For added character, consider pairing a painted set of cabinets with Thermofoil. Thermofoil has a variety of matte and high-gloss options that can replicate painted cabinets at a much cheaper price.
Utilizing thermofoil as one set of two-tone painted cabinets is a cost-efficient way to differentiate your kitchen's design style while still obtaining a painted appearance.
While we have talked a lot about bold colour selections, two-tone cabinet designs can also be utilized with gentle, neutral hues.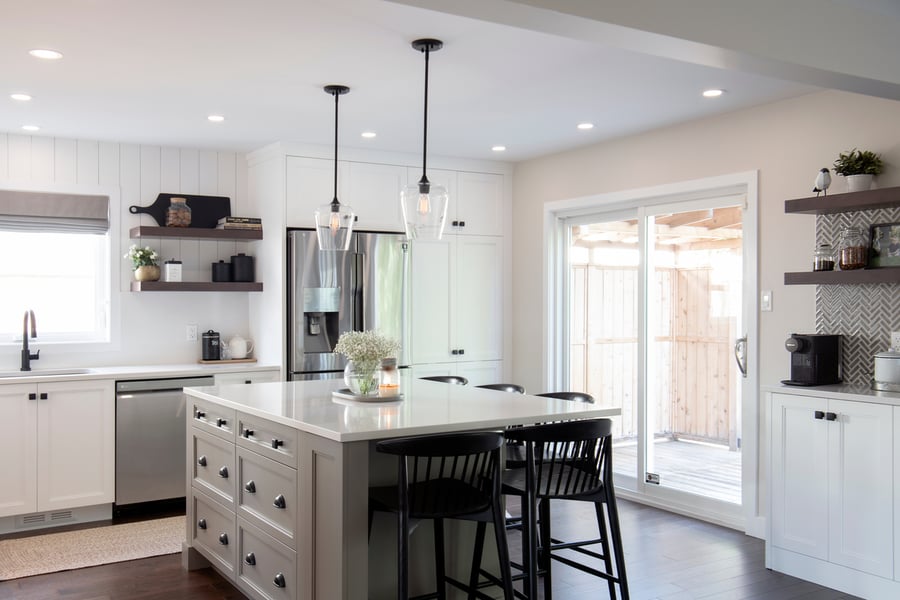 Neutral colour schemes that include whites, beige, light greys, and other gentle tones, are a subdued way to differentiate your kitchen design.
Natural Wood in Two-Tone Kitchens
Natural wood is re-emerging in the kitchen design world, and for good reason. Their natural colour and stunning grain patterns provide the warmth and elegance that many homeowners aspire to implement within their kitchen.
Add to that the variety of stains available for modern-day cabinets and it's no wonder that natural wood is one of the most popularly utilized aesthetics in recent years.
Further, the beauty of staining natural wood is that you can go as light or as dark as you want: from a clear coat to a deep black. Take a look at these dark-stained maple cabinets: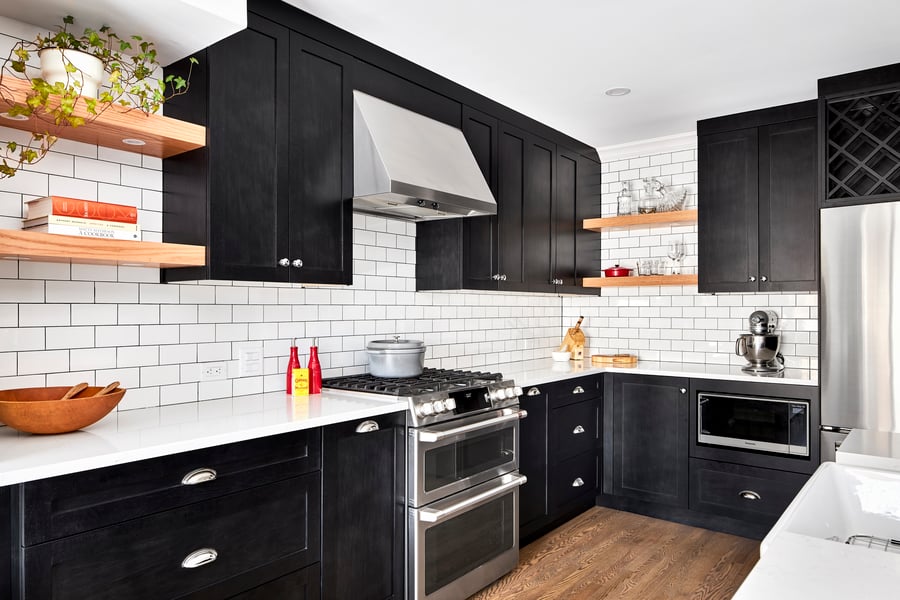 These cabinets have such a dark stain that from a distance, they almost appear to be painted. As you look closer, however, you see the subtle maple grain pattern emerge triumphantly through the black stain.
Using an Island for Two-Tone Kitchen Designs
Adding an island to your kitchen not only increases storage and functionality, but it also provides the opportunity for further design elements; such as adding another layer to two-tone kitchens.
An island has the freedom to complement the rest of the kitchen's aesthetic or stand alone in isolation as a contrasting focal point. Islands have the ability to truly become separate entities when it comes to a kitchen's design.
From start to finish, your kitchen island can have entirely unique features from the rest of your kitchen.
It allows the wall cabinetry to be adorned in the primary colour as a harmonious set, while the island pops as an accent piece in a secondary colour. Or the upper cabinets can be unaccompanied while the base and island cabinets pair together.
Ultimately, kitchen islands can be decorated in full contrast to the rest of the kitchen. With different materials, colours, and hardware.
But that's not all.
You can even furnish the island with different countertops than the rest of the kitchen surfaces!
Using an Island for Three-Tone Kitchen Designs
While you may think three separate cabinet colours might be a recipe for disaster, when done tastefully it can really take a two-tone kitchen to the next level.
Have a look at the kitchen below, for example.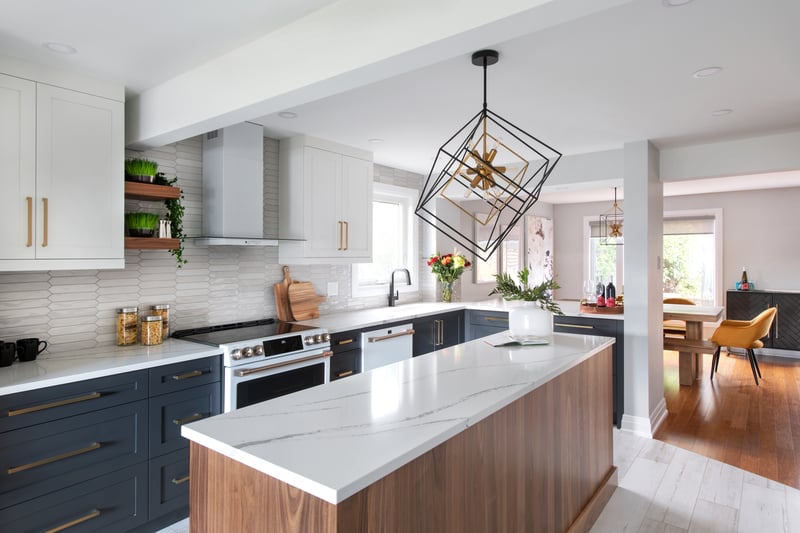 The upper cabinets are white, with a blue base and island cabinets. Further, the island is wrapped in a luscious walnut wood panelling.
This turns the island itself into a two-tone design and produces a three-tone aspect for the entire kitchen. While the painted uppers and base cabinets are still only two sets of cabinetry, the accent panelling implements natural wood to create a stunning three-tone ensemble.
While the idea of a three-tone kitchen might sound overwhelming, and they certainly are rare, all you need is a subtle accent piece to achieve a simple and effective aesthetic.
Design with Deslaurier Custom Cabinets
Excited about the possibilities a two-tone kitchen design presents? Book a free consultation with a Deslaurier kitchen expert at our Jupiter, Florida showroom!
If you have your eye on custom cabinetry, Deslaurier Custom Cabinets has everything you need. With over 40 years of experience to our name, we provide our clients with a fully customized design process with our talented team of designers.
Interested in becoming an authorized Deslaurier dealer? Visit our Become a Dealer page to learn more! Live outside the area? Find a Dealer to connect with a Deslaurier dealer near you!