26/04/2022 • Blog, Product Reviews
Luxury Kitchen Cabinets: The Best High-End Kitchen Cabinet Materials
Estimated Read Time: 6 Minutes
When it comes to the kitchen, many homeowners only want the best of the best. Whether it's the countertop, appliances, or cabinets themselves, the materials you choose will have the biggest influence on your kitchen.
At Deslaurier Custom Cabinets, we specialize in providing our clients with high-quality, long-lasting kitchens. We often work with homeowners interested in implementing the finest cabinet materials for their kitchen.
No matter the appearance you're after, there's a luxury material that will fit your style. This article will detail some of the most high-end, luxury cabinet materials available in a variety of styles.
Let's get started!

What are "Luxury" Kitchen Materials?
Luxury kitchen materials are typically high-end, durable, and attractive products. There are luxury materials for any kitchen design, whether they suit a traditional, farmhouse, or modern style.
For countertops and backsplash, durable and lavish stones such as granite, quartz, and marble are commonly implemented. Cabinets will often be custom-made and typically feature high-end hardware selections.
With that, let's dive into some of the most high-end materials used for luxury kitchen cabinets!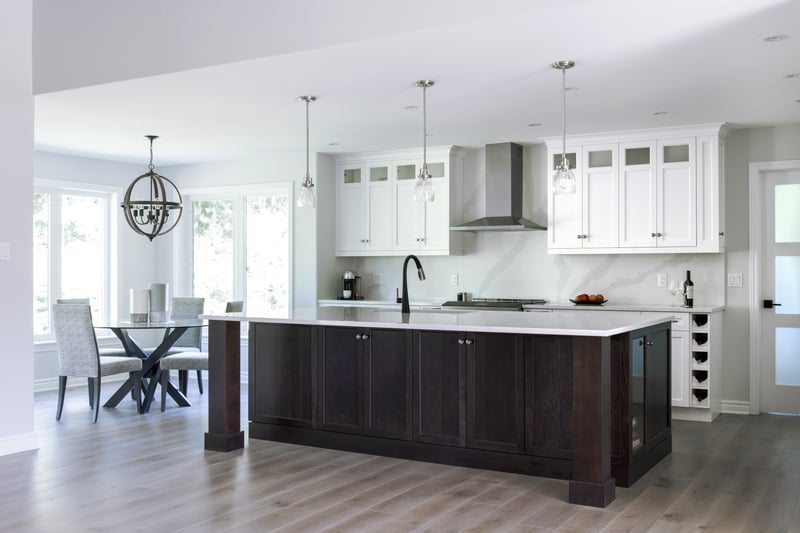 Cherry Wood Cabinets
Noted for its rich, dark, and reddish-brown colour, cherry wood is one of the most luxurious materials you can find for your kitchen cabinets. Prized for its aesthetic, cherry offers a more traditional look with a smooth, closed grain pattern.
A key characteristic to note about cherry wood is its aging process. Starting almost as a light or golden pink, cherry gradually gains deep, alluring reddish-brown hues as it is exposed to oxidation and natural lighting over time.
Generally speaking, most homeowners enjoy a mild stain that lets the beautiful, organic colour and grain of cherry wood flourish.
Conversely, you'd never select a high-end cherry cabinet only to cover it with a painted finish. Rather, you'd be better off with paint-grade woods such as maple and birch, or a man-made alternative like MDF (more on that below).
In terms of strength and durability, Cherry is slightly soft for a hardwood. It has a 950 rating on the Janka Hardness Scale, a measurement used to determine the hardness of different wood samples. While 950 is respectable and certainly durable enough for kitchen cabinets, it is noticeably lower than Maple (1450) or Birch (1260).
Being one of the most luxurious woods for a kitchen, cherry is also one of the more expensive cabinet materials available. Its price tag is due to the fact that Cherry is not as easy to source as a more common wood species such as maple.
The scarcity, as well as the quality of the wood, is the reason behind Cherry cabinets higher price point.
Walnut Cabinets
Walnut is a stunning natural wood that is noted for its significant colour, strong, straight grain variation, and warmth.
Walnut can range anywhere from a light brown to a deep, dark chocolate hue. Though its grain is very open and slightly coarse, walnut still has a beautiful, uniform surface.
Walnut also has a unique aging process. With time, the dark brown colour of walnut will naturally begin to lighten.
Much like cherry, walnut cabinets are rarely, if ever, subjected to a painted finish. Unsurprisingly, most people use a clear coat to enhance the rich, natural colours of walnut. When finished with a clear top coat, walnut portrays a very rich, velvety sheen that accentuates its strong grain pattern.
While these qualities are attractive for any type of kitchen design, in recent years walnut has been utilized more in modern kitchens with flat, slab doors to accentuate the grain pattern.
On the Janka scale, walnut receives a score of 1010, which is slightly stronger than cherry. Also like cherry, walnut is at the higher end of the solid wood cabinet pricing spectrum.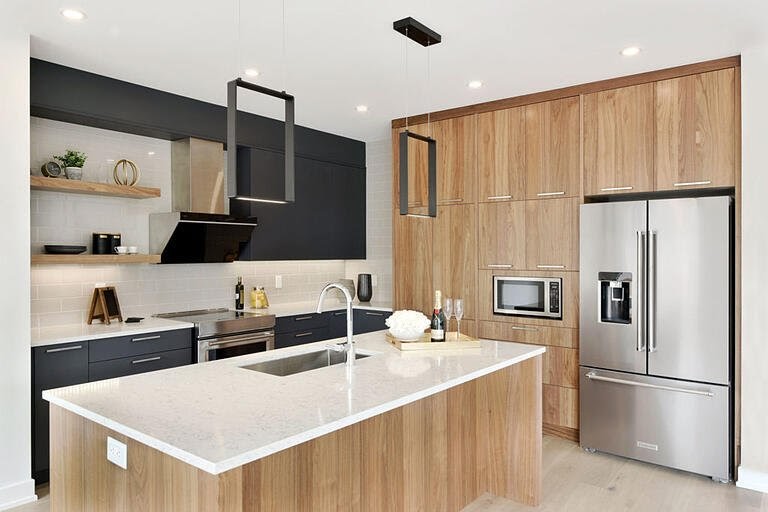 White Oak Cabinets
It's worth noting that not all oaks are alike. Technically speaking, there are several different varieties of oak, and each one is slightly different from the next.
There are two major types of oak: red oak and white oak.
White oak is stronger (1360 to 1290 on the janka scale) and rot-resistant, making it a highly durable wood that is more inclined to be used outdoors or for boats. That being said, white oak has grown in popularity over recent years. From hardwood flooring to kitchen cabinets, white oak is a hot commodity.
Red oak, although multifaceted and capable of seamlessly fitting into beautiful kitchens, tends to be viewed as more traditional and inferior to white oak.
When aesthetically comparing the two, white oak is a lighter colour than red oak, has a smoother surface, and also has a more open grain pattern with similarly straight lines.
Unlike cherry and walnut above, white oak has a solid surface for painted cabinets.Given that white oak is often sought out for its aesthetic beauty, it is less likely to be covered with a painted finish.
White oak is one of the most expensive cabinet materials on the market and can be roughly 40% more expensive than its red-oak counterpart. While price doesn't always indicate the quality of a material, in the case of white oak, it's worth the investment.
Painted MDF Cabinets
Medium density fiberboard (MDF) is a material manufactured by breaking down softwood and hardwood residuals into wood fibers.
These wood fibers are compacted with wax and resin. They are then formed into panels and applied with high pressure and temperatures in order to create a durable, condensed board.
MDF's smooth surface is perfect for a uniform, painted finish. In fact, if you are interested in painted cabinetry, you won't find a better alternative than using MDF for your door fronts.
Aside from how smooth the surface of MDF cabinets are, they also benefit from being a man-made material. MDF does not expand and contract to temperature changes as drastically as natural wood does, meaning MDF is not as likely to cause visual cracks and joint separations once painted.
While MDF itself isn't an overly expensive, luxury material on its own, it is simply the best canvas for high-end paints. In fact, it's less expensive than paint-grade woods such as maple and birch; showing that luxury cabinets don't always have to be the most expensive.
What turns MDF into a high-end, luxury option for painted cabinets comes directly from the quality of the product. The combination of MDF's smooth surface and ability to perfectly sustain luxurious paints is what makes it the best option when it comes to painted cabinets.
Like the idea of painted MDF cabinets? Check out our article on the top kitchen cabinet colour trends for 2022!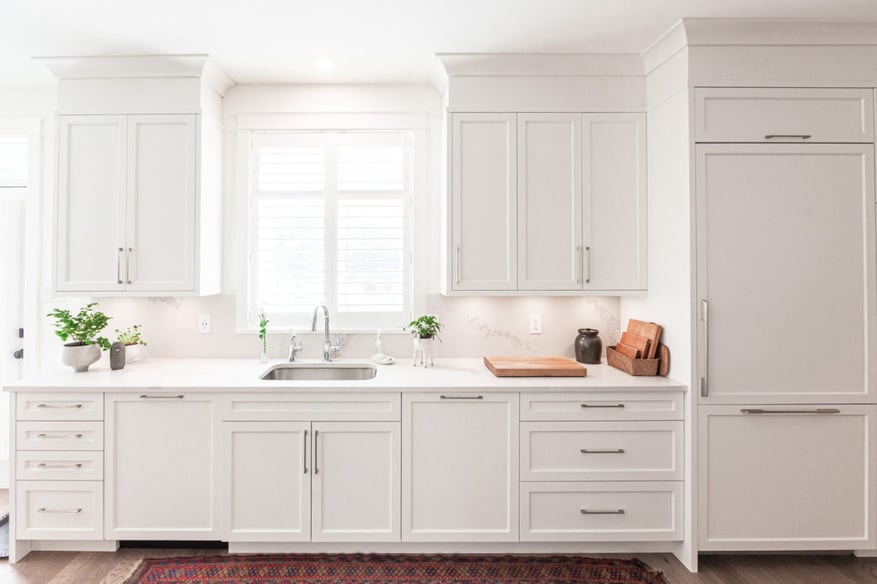 European Textured Melamine Cabinets
If you're looking for a high-end, man-made alternative with a natural wood aesthetic, textured melamine is the way to go.
At Deslaurier, we offer standard textured melamine, as well as a premium, high-end product referred to as European Textured Melamine (ETM).
It's known as European Textured Melamine because up until 2021, it was strictly sourced from Europe. Now, however, manufacturers are producing ETM in North America, and customers are reaping the benefits.
European textured melamine is considered a higher quality, luxury line of melamine. ETM produces a prestige material with deeper textures and colours, a more realistic-looking wood grain, and it even feels more like natural hardwood.
In contrast with standard textured melamine, ETM does not feel as "plasticky" and is a much more rich and convincing imitation of natural wood.
If you're looking for a perfect, consistent hardwood aesthetic, European textured melamine is the highest quality option available on the market today.
Discover Deslaurier Custom Cabinets
When it comes to luxury kitchen cabinets, there are truly a wide variety of high-end materials to choose from. The five materials listed above represent just a few of the finest luxury cabinet materials available for you and your kitchen.
Interested in how your dream kitchen would look with one of these luxury cabinet materials? Book a free consultation with a Deslaurier kitchen expert at our Jupiter, Florida showroom today!
If you have your eye on custom cabinetry, Deslaurier Custom Cabinets has everything you need. With over 40 years of experience to our name, we provide our clients with a fully customized design process with our talented team of designers.
Interested in becoming an authorized Deslaurier dealer? Visit our Become a Dealer page to learn more! Live outside the area? Find a Dealer to connect with a Deslaurier dealer near you!