Estimated Read Time: 7 Minutes
Designing a new kitchen is no simple task. It takes months of planning, construction, and thousands of dollars to complete.
After all that effort, the last thing you want is to realize you took a misstep along the way!
At Deslaurier Custom Cabinets, we have over 40 years of experience specializing in custom cabinetry manufacturing and kitchen design. With over 4 decades and thousands of kitchens to our name, we've come across crucial kitchen design mistakes over the years.
Join us, as Deslaurier designer Amelia Mathieson shares her expertise on 8 kitchen design mistakes you should never make!
Let's get started!
1. Not Measuring Correctly
This may seem like an obvious one, but it is so important that your space is measured properly before renovation plans begin. This is a crucial step to ensure that your kitchen's layout is perfect at completion.
Especially given that a kitchen renovation has several moving parts. If you have knocked down walls or added extensions, you'll want to make sure everything is correctly accounted for.
This can result in your cabinets needing to be cut down to fit the room or needing to order extra filler and paneling to hide extra space.
Further, not measuring properly can affect the function of your kitchen. Take for example your kitchen island.
Many people want to align their island sink with their hood range behind it. If there are two of you working in the kitchen at the same time – back-to-back – it's extremely important to make sure you have enough room.
Always measure, and then measure again!
2. Clearance for Appliances
Measuring your kitchen isn't just about making sure your cabinets fit and your countertop is big enough.
Making sure you have enough clearance for appliances. In fact, it is common for appliances to be an issue for homeowners in the renovation process.
A lack of clearance can be due to an island or counter on the opposite side of the appliance with a larger door, such as a dishwasher or oven. Also, door clearance can be restricted by cabinets or filler situated beside the appliance door.
Refrigerators are also a big issue for clearance space. Often, there is no other place for a fridge to go except against a wall. Thinking about that fridge door opening is crucial before you've settled on your design layout.
"I've had a client whose french-door fridge required 16 inches of clearance" - Deslaurier designer, Amelia Mathieson
Most of the time, your fridge doors need to open quite wide. You'll need to access the full drawers or even take them out in order to clean them adequately.
Ensuring you have enough clearance for your fridge is a major concern most people don't realize until it's too late.
3. Lack of Storage
Imagine the thought of finally unpacking your new kitchen only to realize you have too many things and not enough places to put them. Nightmare!
It's better to have too much space dedicated to storing kitchen items than it is to not have enough. Especially in smaller kitchens, the emphasis on optimizing your storage becomes even more valuable.
Functional cabinet storage and organization can take your kitchen to the next level. Therefore, prioritizing spacious, efficient storage in your kitchen is an absolute must.
The best way to increase functional storage? Drawers, drawers, and more drawers! There's no better way to maximize storage space than by using drawers.
Aside from their storage capacity and convenience, pull-out drawers provide a clear view of the contents inside the cabinet, so you don't have to constantly bend over and dig through the back of your cabinets.
Better yet, cabinet drawers can be well equipped with plenty of accessories (more on that below) that offer organization and efficiency!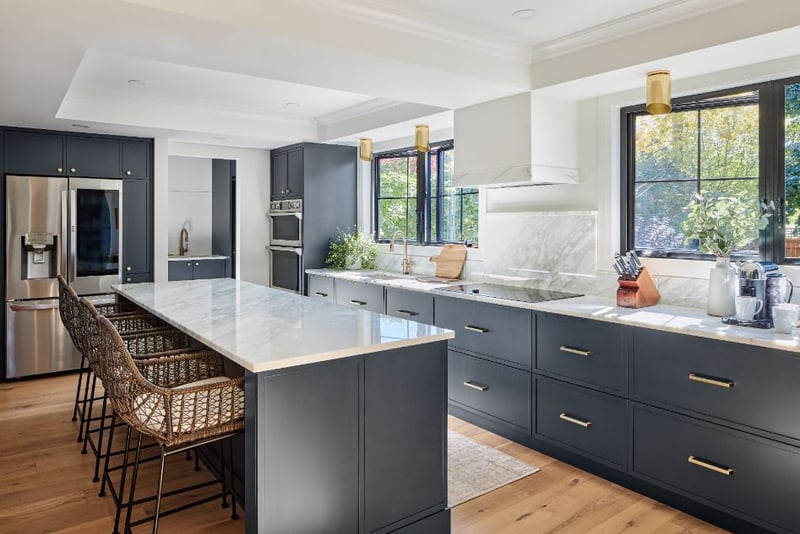 4. Plan for Cabinet Accessories
The only thing worse than not having enough kitchen cabinet storage, is not utilizing it efficiently!
Built-in interior cabinet accessories, like spice racks, corner cabinet enhancers, and waste-bin pull-outs are some of the most functional accessories you can include in your kitchen. They help organize and declutter your space all while being tucked out of sight within your kitchen cabinetry.
However, it's crucial that you plan for these cabinet accessories early on, as Deslaurier designer, Amelia Mathieson, explains:
"Planning [cabinet accessories] up front as opposed to trying to retrofit them in later is definitely our recommendation." - Amelia Mathieson
Inserting built-in cabinet accessories after your kitchen is completed is an unnecessary hassle. It requires installing additional hardware within the cabinet box and finding the perfect-sized accessory to fit that specific cabinet's dimensions.
Planning for them ahead of time not only reduces this hassle but allows you to have cabinets built to perfectly hold these accessories.
5. Ignoring Your Lighting
Compared to the big hitters like cabinet choice or countertop selection, lighting in your kitchen is often an afterthought in the design process.
But it shouldn't be!
Planning kitchen lighting is so important not just for the function of your kitchen, but the look of it too!
From a practical standpoint, proper illumination is necessary to build a multifunctional space that accommodates such a variety of tasks. Adequate lighting allows you to cook, clean, and entertain guests with ease.
When it comes to aesthetics, lighting is also one of the most effective ways to energize a kitchen. Lighting can impact the colour, look, and ambiance of the room. It can work to showcase a particular element of the kitchen or act as a statement in its own right.
It's important you map out your lighting early in the design process, as all the electrical wiring and fixtures need to be done before drywall is up.
"I've had a client say 'oh, we'll just add it later.' Thankfully, they said that in front of me. Otherwise, I wouldn't have been able to explain to them how that isn't a good idea!" - Amelia Mathieson
If you're an avid cook and find yourself doing meal preparation on the daily, you'll want efficient task lighting in your kitchen. Things such as under cabinet lighting for your countertop surfaces will make cooking and cleaning a breeze!
6. Forgetting Function & Workflow
The primary kitchen workflow is focused on three main areas: the sink, the fridge, and the cooktop.
Decades ago, the kitchen work triangle – the idea that your sink, fridge, and cooktop should be positioned in a triangle for maximum efficiency – was the general rule of thumb for kitchen layout design.
Nowadays, the "triangle" isn't a necessity; but the emphasis on kitchen functionality behind it always will be. For the ideal kitchen function, these areas need to be easily accessible and to work in harmony with one another.
"[the layout] just needs to fit well in the space and be functional" - Amelia
According to the NKBA (National Kitchen & Bath Association), none of your appliances should be positioned further than 9 feet apart.
That shouldn't be an issue for most homes, as anything surpassing that would be a huge kitchen. However, creating a layout that is based around how your kitchen will function will have you reaping the rewards for years to come.
7. A Designated Place for Countertop Appliances
The average kitchen is filled with countertop appliances such as microwaves, toasters, and coffee machines, just to name a few. These items make your daily life easier, but they do tend to take up valuable kitchen countertop space!
An appliance garage is the perfect feature to help declutter your kitchen countertop and hold smaller appliances out of sight while they're not being used.
The only downside is that while appliance garages keep your kitchen surfaces free of clutter, they do take up a fair bit of space themselves. If that's an issue, you can always store your countertop appliances in the expansive cabinet drawers we talked about earlier!
For your microwave, which is no doubt your biggest countertop appliance, it's recommended that you plan a place for it in the design process like you would a dishwasher or cabinet accessory.
Not everyone remembers to organize a designated space for their microwave and leaving it on your countertop will take up a tremendous amount of space.
But not to worry, you can have a designated place for your microwave built directly into your cabinetry!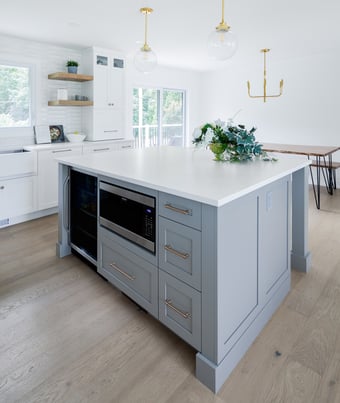 A common arrangement is to have your microwave directly above or below your built-in wall oven. It utilizes vertical storage and keeps your oven and microwave in the same area.
Recently, however, a popular placement is to have your microwave built-in to a kitchen island. This keeps your microwave off your kitchen surfaces and adds another purpose to the already multi-functional kitchen island.
8. Not Researching Your Style Beforehand
For a lot of homeowners, this mistake is easily avoided. With the excitement of your upcoming new home or kitchen renovation, you're probably researching kitchen examples every night!
If you're not, however, that's ok. You don't need to be a design guru right away but skipping out on basic design research is a mistake you, and your designer, won't want to make.
Having an idea of what you like – or better yet, what you don't like – when it comes to your kitchen style will help you and your designer immensely.
You can show your designer specific examples you found online, or at the very least, have a baseline understanding of your own tastes before your initial meeting. That effort and understanding will go a long way!
"I always say to people, go to our website and have a look through the projects. You might not know what your design style is, but you'll be able to say, 'I like this kitchen.' That'll help steer us in a direction to figure out what their style is or what look they might like." – Amelia Mathieson
Another important stylistic decision to keep in mind during your design process is knowing the "purpose" of your kitchen.
Think about if you're designing for yourself long term or if you plan on reselling your home in the future. This may alter the perspective of your decision making from your own personal preferences to gearing towards potential buyers.
If you're planning for resale, you'll want to focus more on timeless qualities that have universal appeal. You may decide against including eccentric features – even if they are what you personally want – as they could dismay a potential homebuyer.
Design with Deslaurier Custom Cabinets
If you're planning a new build or kitchen renovation, Deslaurier Custom Cabinets has everything you need!
With over 40 years of experience to our name, we provide our clients with a fully customized design process with our talented team of designers. They'll help guide you on your journey to ensure you never find yourself making one of the kitchen design mistakes listed above!
Book a consultation today with a Deslaurier design expert at our Jupiter, Florida Showroom or schedule a virtual meeting!

Interested in becoming an authorized Deslaurier dealer? Visit our Become a Dealer page to learn more! Live outside the area? Find a Dealer to connect with a Deslaurier dealer near you!